Jazz at Progress | Jazz Stars of the Future: Tom Smith Septet |

Sold out!
Fri 18 Aug | Progress Theatre, Reading | 7:30pm | £15.00 (£13.00 concessions) plus maximum 5% booking fee.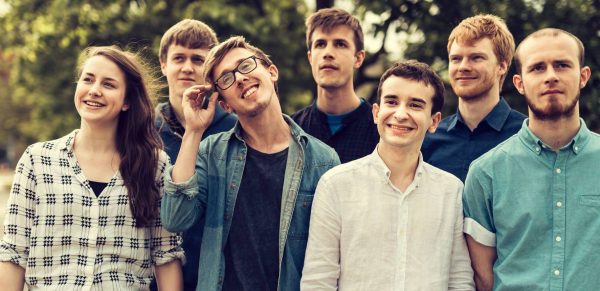 Tom Smith alto sax, Alex Hitchcock tenor sax, Alistair Martin trumpet, Olli Martin trombone, Will Barry piano, Daisy George double bass and Dave Storey drums.
Jazz in Reading is delighted to announce that, in conjunction with Marc Edwards of Brecon Jazz Futures, we have managed to secure the inspiring Tom Smith Septet for the Progress Theatre on Friday 18 August.
Led by Tom Smith, BBC Young Jazz Musician Finalist in 2014 and 2016, the band includes many of the most talked about young jazz musicians working in London today.
Each member of the septet is on the current jazz circuit, in the capital and nationwide, as sidemen with other groups or leaders in their own right: Will Barry with Jasper Hoiby's Fellow Creatures, Dave Storey with Tom Barford's Asterope, Daisy George with Jonny Mansfield Quartet, Olli Martin with Billy Marrows Octet, Alistair Martin with the NYJO and Alex Hitchcock with the Alex Hitchcock Quintet (see them at the Progress on 22 September).
Drawing from the swing and blues traditions, Tom Smith Septet's unbounded energy and enthusiasm will get your head nodding and your feet tapping. Featuring new compositions and arrangements of jazz standards, the band provides an exciting, unique and uplifting evening of music – it's an experience not to miss!
The band has been described as 'Passionate, punchy and joyful!' (Django Bates), 'Something really special' (London Jazz News) and 'Technically outstanding abilities and a punchy, soulful tone' (Soweto Kinch).
Tom himself is a very active composer and arranger, the septet being the vehicle for his own compositions, one of which was broadcast on BBC4 and Radio 3 with Tom playing alongside the Gwilym Simcock trio as part of his appearance on the BBC Young Jazz Musician of the Year in 2014 and three more were broadcast as part of the 2016 competition.
This will be a very special event, the first of several in which we want to bring Jazz Stars of the Future to the Progress Theatre for your delight.
---