Jazz at Progress | The Orphy Robinson Quintet: Bobby Hutcherson Project |

Buy tickets
Fri 17 May | Progress Theatre, Reading | 7:30pm | £20.00 (£18.00 concessions) plus maximum 5% booking fee.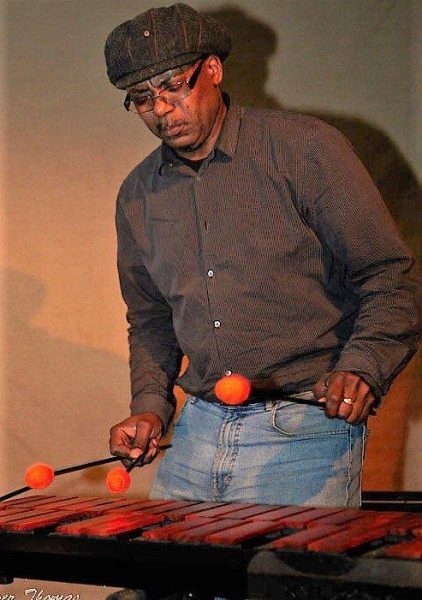 Featuring (new to Progress) Orphy Robinson vibes & marimba, Robert Mitchell piano, Dudley Phillips bass, Rod Youngs drums. Plus the ever popular Tony Kofi reeds.
The renowned USA vibes player Bobby Hutcherson died aged 65 in August 2016 having had a glittering career from the late 1950s. He played with the Who's Who of jazz icons, recording on Blue Note from 1963 to 1977. Bobby ran the gambit from bebop, via post bop to contemporary and free jazz.
In September 2016 Orphy Robinson assembled an octet to pay homage to Bobby Hutcherson, a performance voted by the public the "Live Experience of the Year" at the April 2017 Jazz FM Awards.
We are very pleased to provide this repeat opportunity for Bobby's work to be celebrated. We delight in having a quintet from the same gifted players who will play Bobby's original compositions, arranged by Orphy Robinson.
Orphy Robinson MBE, a former Jazz Warriors member, signed by Blue Note and making five albums as leader on the iconic label in the 1990s, has continued to make waves and help turn the tide of jazz in the UK from continual reproduction of standards to contemporary compositions distinctly UK and World Music in nature. He has composed for film, TV, stage and the Proms. His work in music education is renowned. Somehow he finds time to perform and work with artists from a wide range of musical genres, from Robert Plant through to Nigel Kennedy, Andy Shephard and any and everyone on the UK jazz scene.
Tony Kofi, a contemporary of Orphy's in the Jazz Warriors and last seen at Progress in February with the Portrait of Cannonball, is undoubtedly one of the UK's most popular players who spans the styles from bebop to free jazz. As a younger man he had a four year scholarship at Berklee, Boston USA, where he gained his diploma and also much experience from the USA scene. Tony plays with passion and sensitivity, never failing to create an emotive response from an audience.
Robert Mitchell also spent a number of years stateside in the Big Apple, earning his spurs after completing his BSc degree in London. Also serving time in the Warriors, Robert has a wide musical influence and having studied piano from the age of six, uses that depth of knowledge to produce music influenced by classical piano heritage, jazz, world music, soul, R&B and beyond. Robert has made a number of albums as leader and also in a solo setting. It is a pleasure to be able to introduce him to our Progress audience.
Dudley Phillips is, like so many bass players, an unsung hero. However, he co-created the Perfect Houseplants in 1992 with Mark Lockheart, Huw Warren and Martin France on drums who appeared for us with Chris Laurence. No doubt some in our audience will have at least one of the band's albums from the 1990s.
Rod Youngs, drummer and composer, really gets into the groove and heart of a tune. Seen at Swanage Jazz Festival last year with Byron Wallen and also Jazz Jamaica, he drives proceedings with a loose-limbed relaxed style. This aids an intricate, delicate use of the cymbals that fizz and spark. Rod is a pleasure to watch, as he is so expressive and into the music. As a reviewer says "he does not so much as hit the drums, but massages them with an expression of orgasmic concentration." There are not that many drummers you can say that about. Rod is a native of Washington DC and started playing the drums at an early age, inspired by going to gigs and recording sessions with his father who was an agent for R&B bands in Washington. Rod's associations run from Alan Barnes to Gill Scott Heron, from Courtney Pine to the BBC Concert Orchestra.
What a great line up and as this gig was cancelled because of snow last March, we are delighted to have this new date.
---