Jazz at Progress | The Horace Silver Project |

Buy tickets
Friday 30 June 2023 | Progress Theatre, Reading | 7: 30pm | £18.00 (£16.00 concessions, £9 under 16) plus maximum 5% booking fee.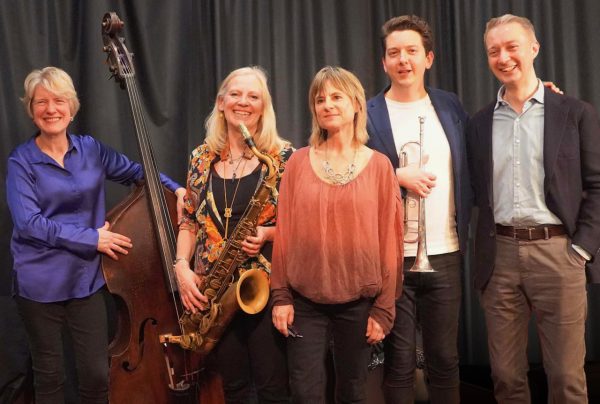 Freddie Gavita trumpet
Clare Hirst sax
Andrea Vicari piano
Marianne Windham bass
Matt Fishwick drums
The Horace Silver Project
A celebration of the distinctively funky soul jazz of the legendary hard bop pianist and composer Horace Silver, from a great band led by composer and pianist Andrea Vicari and saxophonist Clare Hirst and featuring Freddie Gavita (winner of the British Jazz Awards for Best Trumpet in 2017), with Marianne Windham on bass and Matt Fishwick on drums.
The Horace Silver Project promise to win you over with their all-action and swinging tribute to a founding father of soulful hard bop, including favourites from his enduring Blue Note recordings such as The Preacher, Song for my Father and Sister Sadie.
Pianist and composer Andrea Vicari was born in Florida and grew up in Birmingham. Educated at Cardiff University she won a scholarship to study at The Guildhall School of Music in London and was soon in demand as a 'side-man" working with bass guitar legend, Dill Katz in a band that included the then unknown guitarist Phil Robson. Soon after she formed her first important group with Julian Argüelles on saxophone & Stuart Hall, then of Django Bates' "Human Chain", on bass. Other employers included GRP recording artist, Phil Bent; jazz warrior David-Jean Baptiste with whom she recorded her first commercially released CD; and the all-women band "Birds" led by Kathy Stobart.
Andrea played a successful season at London's sadly defunct jazz club "The Bass Clef" with the late great American saxophone innovator, Eddie Harris, and gigged with the US trumpet legend Art Farmer. Andrea has to date five albums in her own name and has contributed to others such as 'Round Trip' and "East and West' with Jazz Extempore plus 'The Vortex Foundation big band'. A prolific composer, she has been commissioned by the Arts Council, the BBC, Jazz Umbrella, the Peter Whittingham trust, and other projects. Andrea is also a well known and respected jazz educator holding a senior lecturer post and professorship at Trinity Laban College of music and dance (jazz).
Clare Hirst was born in Cumbria and studied piano and clarinet until managing to get hold of a saxophone. She moved to York and then to Leeds before eventually making it to London where a successful career in pop music ensued. Having played live and on recordings with artists such as David Bowie, The Communards,Mica Paris, The Bellestars and Maxi Priest, she spent some time working with Mervyn Africa before embarking on a solo career based around her Quartet. Since then she has played with many of the country's finest jazz musicians including Tony Kofi, Art Themen, David Newton, Alan Barnes, ClareTeal, Mark Nightingale, Byron Wallen, Don Weller, Claude Deppa, Jim Mullen and Dick Pearce. She has performed concerts in USA, Japan, Hong Kong and extensively in Europe including many TV performances. Her performance with David Bowie on Live-Aid can be seen on the Live-Aid DVD.
Clare's experience with such a diverse mixture of musical styles ranging from salsa to reggae to funk and African music, along with a heavy influence from jazz players such as Sonny Rollins and Chick Corea, has created a unique style. The Clare Hirst Quartet has performed at many festivals, clubs and arts centres throughout the country and she currently has three CD's out; the first entitled "Tough and Tender" called "Summer Song" and the third CD "Touchy".
Winner of the British Jazz Awards "Best Trumpet of 2017," Freddie Gavita has cemented his place as a leading light on the British Jazz scene. With the release of his debut album "Transient" in April 2017, his star is certainly on the rise. He is a member of the Ronnie Scott's Club Quintet and jazz-rock outfit Fletch's Brew as well as being a band leader in his own right. A fearless improviser, "he solos with fluent authority,
his tone ranging from the warmly conversational to the eloquently strident".  A graduate of the Royal Academy of Music and the National Youth Jazz Orchestra, he rose to prominence through the John Dankworth Orchestra, and has been a member of the Ronnie Scott's Jazz Orchestra for ten years.
Freddie  has appeared as soloist with the BBC Big Band, twice at the BBC Proms at the Royal Albert Hall, and brought Roger Michell's 2013 film "Le Week-end" to life with his inimitable muted trumpet stylings. He has played with, among others, Peter Erskine, Joe Locke, John Hendricks, Kenny Wheeler, Stan Sulzmann, Tim Garland, Jon Faddis, Gregory Porter, Curtis Stigers, Paloma Faith, Jess Glynne, Seth McFarlane and Dionne Warwick. He has also composed and arranged extensively, including Alexander Stewart's masterpiece "I Thought About You" and the stunning "Beloved" commissioned by Calum Au for his 2012 release "Something's Coming."
The founder and driving force behind Guildford Jazz, and co-founder of Fleet Jazz, Marianne Windham took up playing bass later in life, and left a successful career as Director of a software consultancy to pursue learning bass full time. She has since become established on the scene and has performed with many of the UK's leading jazz musicians including Alan Barnes, Steve Waterman, Mark Nightingale, Sara Dowling, Derek Nash, Dave O'Higgins and many others.
Matt Fishwick's reputation is such that he is one of the "go to" drummers in London. He studied at the Royal Academy of Music in London. It was here that he played with a vast array of jazz talent including Mike Carr, Dave Cliff, Jim Mullen and numerous others.
---