Jazz at Progress | Portrait of Cannonball featuring Tony Kofi |

Just one wheelchair space left
Fri 22 Feb | Progress Theatre, Reading | 7:30pm | £20.00 (£18.00 concessions) plus maximum 5% booking fee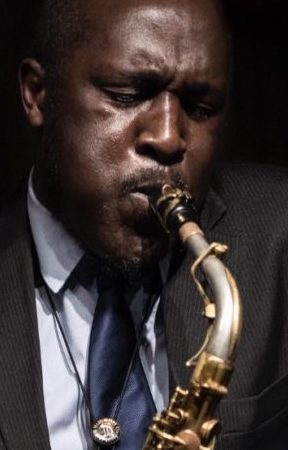 Tony Kofi alto sax, Alex Webb piano, Byron Wallen trumpet, Andy Cleyndert bass, Alfonso Vitale drums and Deelee Dubé guest vocalist.
Alto-sax master Tony Kofi fronts this loving celebration of the jazz giant (in every sense) Julian 'Cannonball' Adderley.  The group traces the explosive music of Cannonball from his first session as leader in 1955 through work with Miles Davis to the soul-jazz of the 1960s.  The repertoire includes Adderley brothers classics like Things Are Getting Better, Work Song, Del Sasser, Sack o' Woe and Mercy, Mercy, Mercy – as well as a guest vocal spot by Deelee Dubé exploring the memorable 1961 collaboration with Nancy Wilson. 
 
Cannonball Adderley was one of the best-loved figures in post-war jazz. Hailed as 'the new Bird' on his emergence, he made historic recordings with Miles Davis and John Coltrane as well as having many crossover hits as a pioneer of soul-jazz.  Born Julian Edwin Adderley in Tampa, Florida, on September 15th 1928, he attended the US Navy School of Music before moving to New York City in the 1950s.  Spanning bebop to jazz-funk,he was a unfailingly inventive and communicative virtuoso.  He died on August 8, 1975; 2018 would have been his 90th year.
Read London Jazz News' review of Portrait of Cannonball
 
Tony Kofi won the Best Instrumentalist Award at the 2008 BBC Jazz Awards, Best Ensemble at the 2005 Parliamentary Jazz Awards, Album of the Year at the 2005 BBC Jazz Awards and was nominated for an award MOBO in 2008. Born in Nottingham to West African parents, Tony spent a four-year period at the legendary Berklee College of Music in Boston, USA, on a scholarship music diploma. Since then, he has performed with the World Saxophone Quartet,Clifford Jarvis, Courtney Pine, Donald Byrd, Dr. Lonnie Smith, Eddie Henderson and many others.  Between 2003 and 2004, Tony was an integral part of the Anglo-American Big Band of Andrew Hill and the Sam Rivers Rivbea Orchestra; he has also recorded with Jamaaladeen Tacuma and Ornette Coleman, as well as with his own bands.
 
'Kofi's improvising has an arrestingly raw power' – The Guardian
 
Widely recognized as a seminal figure in world jazz, trumpeter Byron Wallen's work draws inspiration from contemporary and indigenous cultures.  Artists he has collaborated with include Andrew Hill, Jack Dejohnette and Wole Soyinka. He has four solo albums, winning awards and nominations from the BBC and the MOBOs. Commissions include FIFA, PRS, Southbank Centre, National Theatre and Game of Thrones.  He also has a degree from Sussex University in psychology, philosophy and mathematics.
 
Winner of the 2016 Sarah Vaughan International Jazz Vocal Competition, Deelee Dubé (pronounced Dubé) comes from a stellar African musical lineage.  Deelee's late father was the famed South African jazz pianist Jabu Nkosi; her grandfather another legendary figure from the country's music scene, saxophonist and bandleader Zacks (Isaac) Nkosi.  She attended the BRIT School for arts and music, later studying under vocalist Clare Foster, and forming the first of many musical relationships with jazz pianist Roland Perrin.  She established her London reputation with tenor saxophonist Renato D'Aiello at Ronnie Scott's Acoustic Jazz Lounge. A songwriter as well as a singer, Deelee has had her work reach the semi-finals of the UK Song writing (UKSC) Contest.  Deelee is also a poet, and her work has been published in Write & Shine (Poetry Now Young Writers Book,1995) and the Book of Dreams (United Press, 2010).  Her debut album, on Concord records, was released in 2018.

Alex Webb is a songwriter, arranger and pianist; His songs have been recorded by jazz singers China Moses, Mina Agossi, Sandra Nkake, Liane Carroll,Allan Harris, Alexia Gardner and Alexander Stewart, among others. He has created a number of 'words-and-music' productions, including 'Lush Life' (about composer / arranger Billy Strayhorn), 'Charlie Parker on Dial' and 'Cafe Society Swing'.  'Cafe Society Swing' has enjoyed two theatre runs in London and one in New York, where it starred Charenee Wade, Allan Harris and Cyrille Aimée and received a New York Times 'Critic's Pick'.  He recently created a musical about Lena Horne, 'Stormy' written with actress Camilla Beeput.  
Alfonso Vitale was born in 1991 in Messina, Italy . He started playing the drums at the age of three and became a regular fixture at local jazz club 'La Sosta', sitting in with visiting veteran stars like Bobby Watson, Kenny Barron, Buster Williams, Steve Swallow and others.  In 2013he graduated from the Conservatoire A. Corelli with a degree in classical percussion. Soon after moving to the UK, he became a regular sideman with tenor saxophonist Renato D'Aiello at Ronnie Scott's Acoustic Jazz Lounge and found a comfortable footing on the London scene.  More recently Alfonso returned from a three months sabbatical in the Big Apple, New York City, honing and extending his skills as an exponent of his stylistic passion in the style of the old jazz masters.
 
Andy Cleyndert began playing bass while still at school and, on leaving in 1981, immediately embarked on a musical career backing jazzmen such as Peter King and Art Farmer as house bassist in a jazz club in Manchester. On moving to London he began playing with Bobby Wellins and the Don Weller/Bryan Spring Quartet. Clark Tracey and Iain Ballamy and quickly established himself on the jazz scene as well as touring with such US visitors as Bobby Watson, Bud Shank, Red Rodney Charlie Rouse, Benny Green, Junior Mance, and the European quartet of Gene Harris.  In the noughties he started his own record label promoting musicians such as Stan Tracey, Junior Mance, Bobby Wellins, Martin Drew, Peter King, Don Weller, Karen Sharp and to date has released almost 50 albums as well as producing countless others. He was also a member of the Ronnie Scott Sextet/ Quartet for a number of years, and was long-standing bassist for the much-missed Stan Tracey.
---