Jazz at Progress | Moscow Drug Club |

Buy tickets
Friday 29 January 2016 | Progress Theatre, Reading | 7: 30pm | £15.00 (£13.00 concessions) plus maximum 5% booking fee.
Featuring Katya Gorrie vocals, Jonny Bruce trumpet, Mirek Salmon accordion, Denny Ilett guitar and Andy Crowdy bass.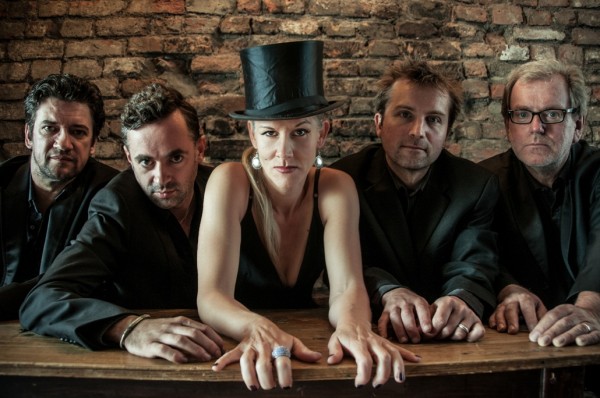 Moscow Drug Club is a curious musical place where certain elements of 1930's Berlin Cabaret, Hot Club de France, Nuevo Tango & Gypsy Campfire meet, have a few to drink and then stagger arm in arm into the darkness of some eastern European cobbled street on a mission to find the bar where Django Reinhardt & Tom Waits are having an after hours jam with the local Tziganes.
Combining their original material with songs by the likes of Jaques Brel, Leonard Cohen, Tom Waits & Bertolt Brecht, Moscow Drug Club provide an intoxicating & intimate musical experience.
Katya Gorrie is trained both in classical and jazz music as well as theatre and dance and has toured in Canada, the States and Europe. Denny Ilett is a renowned world-class guitarist having spent many years touring with the ambassador of music from New Orleans, Lillian Boutté. He has composed and arranged music for his own big band and is a regular columnist for Guitarist magazine. Andy Crowdy has as a Masters in Music Composition and is one of the most in-demand double bassists for some of Europe's most renowned Gypsy swing guitarists such as Lollo Meier, Angelo Debarre and John Etheridge. Classically trained pianist Mirek Salmon has his BMus from the University of Cardiff, has composed music for the British Film Institute and BBC television. Jonny Bruce is a freelance trumpet player based in Bristol, UK. He was trained classically by Paul Mayes and Andy Everton, and receiving further tuition in jazz from Steve Waterman. Jonny is a throwback to the pre-Miles styles of playing. In other words, he's not cool, he's hot! He draws from all the trumpeters from Louis Armstrong to Roy Eldridge and Clark Terry and he's got the chops to do it.
You are cordially invited to share a wry smile with us as you enter the darkly comic world of Moscow Drug Club. This way please  – and mind the stairs!
See and hear the band here.
---