Jazz at Progress | Empirical |

Buy tickets
Fri 16 Dec 2016 | Progress Theatre, Reading | Empirical | Nathaniel Facey sax, Lewis Wright vibes, Tom Farmer bass, Shaney Forbes drums | 7.30pm | £19.00 (£17.00 concessions) plus maximum 5% booking fee.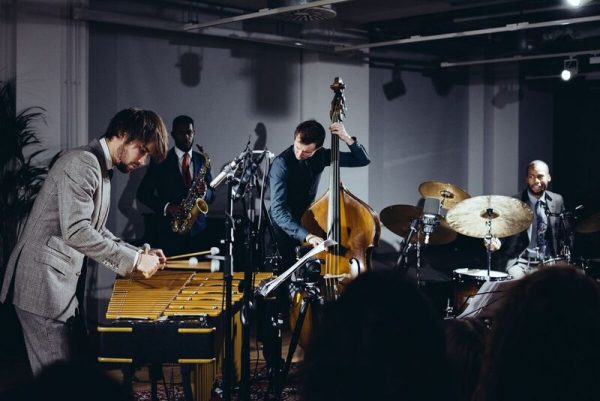 Photo by Steve Pringle
Empirical are the coolest UK jazz group, known for producing forward-looking, risk-taking, creative music. Each member has a uniquely equal role in the musical direction of the band, brought together through the core ethos of experimentation.
This is a band that we have been wanting to feature for some time and with the release of their latest album Connection in May this year, we have the right timing. Debuting in 2006 as a quintet, but settling on the present line up in 2008, the band has won numerous awards, including this year's Parliamentary Jazz Award for best Ensemble.
So, of the starting line-up, Tom Farmer on bass and Shaney Forbes on drums, were joined by Nathaniel Facey on reeds in 2007 and Lewis Wright on vibes completed the new quartet in 2008. From inception, the band have released five albums, all of which have won critical acclaim and have something original to say. Some maintain the band's influences to be Eric Dolphy and because of Lewis Wright's vibraphone element, the late Bobby Hutcherson. However, these guys, who have their jazz education rooted in bebop, do have their own sound and concepts which is very evident in Connection.
The recording was made in February 2015 after six gigs at Foyles book shop in London and is inspired by a desire to connect with an audience, some of whom may not be jazz aficionados, rather than just cater for the converted. The result is original compositions and playing summed up by Guardian jazz critic John Fordham: 'Wright's "Mind Over Mayhem" is a hip mix of knotty composition and bop-fuelled swing and "Lethe" is a haunting fusion of luxurious vibes chords and soulful sax laments. The rhythmically layered, fitfully spiky "Stay the Course", meanwhile, powerfully showcases Wright's grace and Forbes's inventively supportive drums. This fine set is a significant renewal of Empirical's commitment to giving 1960s hard bop and free jazz (probably still their deepest loves) a 21st-century identity.'
---