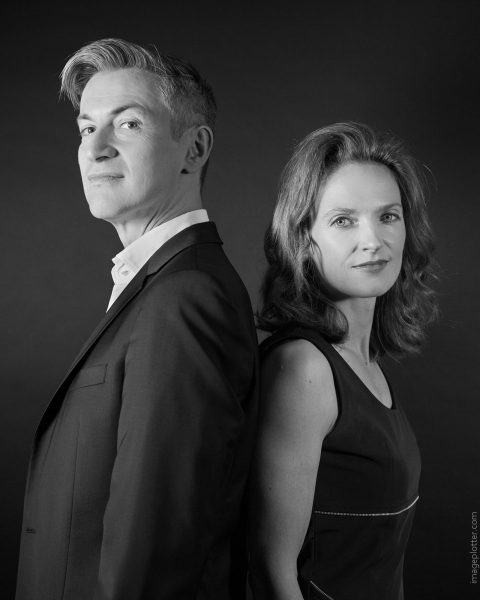 "His 'n' Hers" with the Dave & Judith O'Higgins Quintet
Livestream from the Boileroom, Guildford

Wednesday 16 JUNE 2021  £10

Dave and Judith O'Higgins tenor saxes, Graham Harvey piano
Marianne Windham bass,  Sebastiaan de Krom drums
Saxophonist Dave O'Higgins has been a mainstay of the UK jazz scene since the early 1990s when he first emerged as a bandleader in the wake of the 80s jazz boom. In recent years his music has been more firmly rooted in the jazz mainstream and he is well known for his work with the American pianist and composer Darius Brubeck. He has recorded extensively with over twenty-two albums to his name. "His 'n' Hers", a good-humoured presentation of two contrasting  styles of playing tenor, produced in the midst of the Covid-19 crisis of 2020, was the realisation of a project with his multi-talented wife Judith that had been on the back burner for some time.
In his review for The Guardian, Dave Gelly described this Four Star rated album as 'a tenor masterclass' and continued:
'How do they do it, those rare individuals who combine playing music at the highest level with another, totally different and demanding occupation? In jazz alone I can think of a consultant surgeon, an acoustic architect, a newspaper cartoonist and several more, now joined by judith O'Higgins, saxophonist and forensic pathologist. Dave, her other half, has to content himself with merely being one of Britain's top jazz saxophonists. Here, they engage in a traditional "tenor battle", in which two well-matched tenor saxes take it in turns to show what they're made of.'
Gelly could have added that Judith, a published author and accomplished graphic artist – her design for the "His 'n' Hers" album cover is an affectionate tribute to the 1960s television series "The Avengers", also helped to engineer the recording.
Mr & Mrs O' Higgins will be joined by a 'super swinging' rhythm section of Graham Harvey on piano and Sebastiaan de Krom on drums, with Marianne Windham in the dual role of hosting the evening and playing bass.
The gig will start at about 7.30pm, followed by a post-gig chat with the band. We'll send you an email to confirm your booking, followed by a link to the performance the day before.  Tickets are £10 each, click here to book now.
"HIS 'n' HERS" is available as a limited edition vinyl album, CD or digital download here