Address
The Fisherman's Cottage
Kennet Side
Reading RG1 3DW
At B on the map below.
Parking/access
There is a small car park behind the pub on Lock Place and a path beside it taking to you to the front (enter through the front door).
Some of the on-road parking on Lock Place and Orts Road is residents-only but there are places where you can park on single yellow lines after 6:30pm (look for small yellow signs similar to this)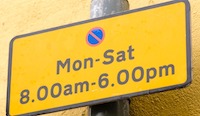 Another option is to park in the Queens Road Car Park RG1 4BE (A on the map; only £3.60 after 6pm) and walk along Kennetside (less than half a mile, 8 minutes).