At first glance there is nothing remarkable about Sue and Chris Hollebone's yurt as it sits in the grounds of their home at Haddon Acre in South Oxfordshire. Swathed in a coat of  heavy-duty canvas that bears testimony  to the ravages of time and the weather, it resembles a saucepan lid in shape. Only a tiny door, beautifully decorated in traditional patterns of Mongolia , not dissimilar in style to the 'Castles and Roses' of British canal folk,  offers a clue to what magic might be held within.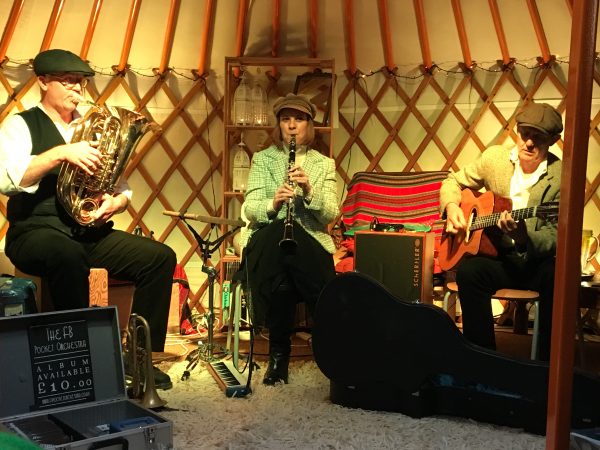 Wow! The interior is truly breathtaking; a circus big top of brilliant white, lit by the sunlight pouring through the sky light and supported by four central posts and seventy-eight spars, each painted in the same vivid colours and intricate patterns as the door. A thick layer of woollen material lies between the interior sheeting and the outer water-proof jacket. Everything is secured by threads of horsehair; there is no nail or artificial fastening anywhere in the construction, while a tension band holds the entire edifice in place. Can it really be only be twenty-two feet in diameter – it seems so much bigger?
It's easy to imagine that this would make idyllic 'glamping' accommodation – the reason Sue and Chris imported it about twelve years ago. 'It took a 'team of fourteen, a day to erect,' Chris remembers. 'The nomadic people of Mongolia can do the job in four hours with a team of just three or four. Once upon a time they would have towed it across the Steppes in a yak cart – I guess they would use a 4 x 4 truck today. They would want to get their family and animals safely tucked up inside as quickly as possible and unlike us, not stop for interminable cups of tea.'
Located within a few minutes' walk of Wittenham Clumps, ancient guardians of a landscape described by the artist Paul Nash as 'a beautiful legendary country haunted by old gods long forgotten', the yurt's 'glamping' potential soon exceeded Sue and Chris's expectations.  Its mystical qualities were also enhanced by its proximity to St Michael's ley line, linking St Michael's Mount in Cornwall with Hopton in Norfolk, making it a perfect space for meditation and visits by Celtic Shaman.
Two local musicians brought a couple of guitars to the yurt one evening and liked playing in the space. About two years later, one of them suggested using it as a 'live' performance venue. When their interest moved to other activities about three years ago, Sue and Chris took the enterprise on themselves and so was born 'Rhythms at the Yurt'; vocalist Fleur Stevenson was the first guest and has remained a favourite visitor ever since.
The Hollebone's love of the yurt itself and the local environment is matched only by their love for music. Chris grew up with jazz, though despite his brother's best efforts, he remained immune to the attractions of 'trad', much preferring blues. His perspective changed when he entered the world of professional sound recording as an engineer. 'As a young man I had the good fortune to work with some legends of jazz – Oscar Peterson, Jacques Loussier, Charlie Mingus – who people warned would 'skin me alive' but turned out to be OK, and notably  the absolute giant, Duke just six months before he died.  I spent most of the gig in Bristol on stage with the band making sure the old devils were still "on mic" when they stood up for their solos. Pretty awesome for a guy of 19 being underneath Paul Gonsalves, Johnny Hodges, Harry Carney, Russell Procope, Harold Ashby and all. The brass players like Cootie Williams, Willie Cook, Money Johnson and co. were less of a problem because they were loud enough and unlike the sax, their bells were more or less in the right direction! For those guys it was all about the performance and the recording didn't matter so they made it tough. Ellington himself was a very charming man.'
'The greatest fun though, was with George Melly, backed by John Chilton's Feetwarmers at a live session at Ronnie Scott's in 1972. As somebody said at the time, "A night to remember for those who can. Some can't". Unbeknown to us George had a bottle of brandy tucked away behind the piano and by half way through he was slurring his words and totally unintelligible. When we came to play the tape back it was totally unusable. To salvage the project we got George, this time cold-stone sober, back into Ronnie's a week later at 11 o'clock in the morning and re-recorded the whole thing, dubbing on the applause and audience effect later – so much for being a 'live' album! The result – George's hit album 'Nuts'! The rest, as they say, is history. It launched his solo career, which continued unabated until his death in 2007 and also taught him the lesson of not imbibing on recording sessions.'
Chris returned to Ronnie's on many more occasions, including to record the tempestuous drummer Buddy Rich and his Big Band. 'We somehow stuffed all the equipment in Pete King's office,' Chris remembers, 'pushing his desk to one side. It was a fantastic band, the standard of musicianship was amazing, but Buddy was an absolute b…..d. He paid his band, mostly young guys straight from music college, a pittance as if it was a privilege for them to play with him. He would regularly pull the trick of calling a title, setting up an intro on his drums and cymbals, and then at the last moment shouting out for another tune. He fired anyone who couldn't make it! But what a band!'
Chris's subsequent career embraced the less savoury world of punk, when 'some of the musicians could hardly play a note', to the highlights of  recording Queen in Hyde Park and Genesis on tour – the starting point, perhaps, for a future interview on his adventures in the recording industry?
To return to Rhythms at the Yurt, though artists from as far afield as Scotland have played the venue, Chris and Sue mine the extraordinarily rich vein of talent that lies on their doorstep in the Thames Valley.  'We're very fortunate,' Chris declares, 'to have some exceptional people near at hand with a slant towards jazz, blues and 'Americana' –  for starters just think of Fleur, Rebecca Poole (aka Purdy), Hugh Turner, Paul Jefferies and Jez Cook.'
Chris and Sue realised early on that duos or trios work best. However, Sue recalled a particularly 'cozy' evening when vocalist Lea Lyle brought her entire quartet to the venue – including drums! 'On the other hand,' Chris added, 'Edd Keene held everyone spellbound with a solo performance of electronic wizardry. He was completely shattered by the end and said that his  "brain had fried". We had another great night with the FB Pocket Orchestra – there were only three of them, but what an incredible range of instruments they played – everything from a washboard to a tuba!'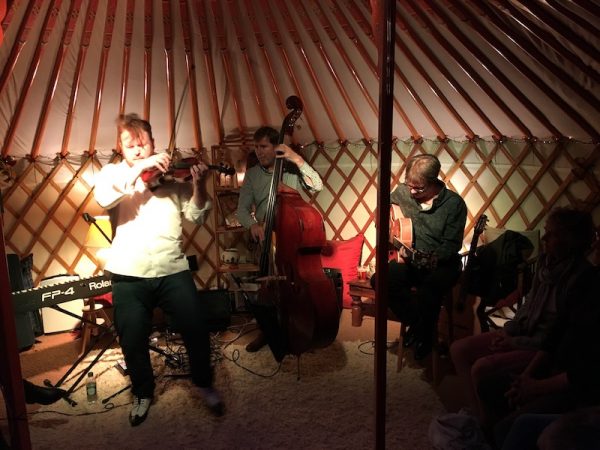 Space may be limited, but it didn't in the least inhibit the 'no holds barred' exuberance or animation of the irrepressible violinist/pianist/vocalist Ben Holder when he performed at the yurt.
Sue recalls one performer, more used to grand concert halls, who feared that closeness to the audience might expose the tiniest flaws in his performance. 'He needn't have worried,' Sue remarked. 'The yurt worked its special magic and he soon relaxed. After all, what's a fluffed note when you're amongst friends?'  The long-term partnership of Tony O'Malley and Keith Fairbairn even surprised themselves when they played the yurt. 'They set up this great exchange of banter – really quick-witted repartee,' Sue explains, 'not just with the audience, but between themselves – something they'd never done before or indeed since!'
There are stunning views to enjoy from Haddon Acre in the summer, but Chris and Sue agree that the yurt is at its most atmospheric during late autumn and early winter when it's lit up with a myriad of fairy lights and interval drinks can be enjoyed standing in the open-air beside the warmth and glow of a blazing fire-pit.
Rhythms at the Yurt runs from April to December. It can be reached easily by car and there's ample parking space. Seating, though, is limited to thirty, so early booking is always advisable. You will be guaranteed a warm welcome by Chris and Sue Hollebone.
Up Next in 2019
Friday 18 October: Fleur Stevenson returns with new material from her album 'Follow Me' with Pete Billington keyboards and Raph Mizraki bass.
Friday 15 November: Dunasjska Kapelye, an exotic mix of Balkan Gypsy Jazz with Jez Cook guitar, Plotr Jordan violin and Raph Mizraki bass.
Friday 13 December: Purdy's Christmas Special – festive fun with the enchanting Rebecca Poole, Hugh Turner guitar and Stuart Henderson on assorted brass and percussion.
For full details of these and all the events at the Yurt email sue@hollebone.com call 07721 36 4212 or check out www.haddonacre.co.uk
Article by Trevor Bannister
Other articles in the series
The Definite Collective – a band and a project
Jazz in Reading pays tribute to Art Themen