It's the summer of 1987 and two jazz fans are standing in a crowded Reading wine bar, soaking up the house red and the delights of the Stan Tracey Quartet. The first turns to his companion and remarks, 'That was a knock-out solo from Art.' His friend nods in agreement and adds, 'Yes, and he did a brilliant job on my knee last month.'
An apocryphal story? Perhaps? But to my mind it neatly sums up the remarkable Art Themen, whose unique talents and derring-do enabled him to rise to the highest echelons of two of the most demanding professions one can imagine, jazz soloist and orthopaedic surgeon.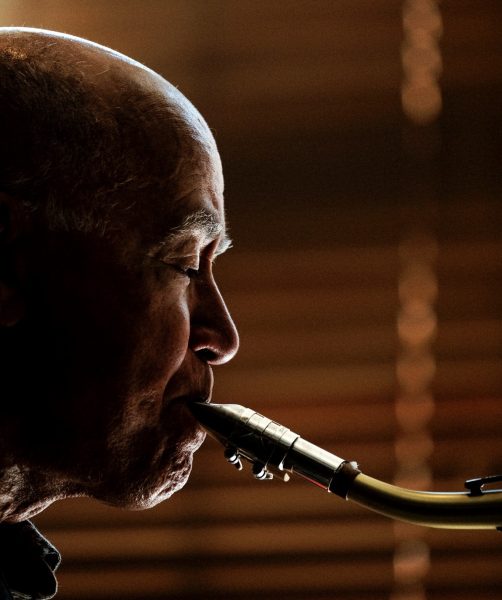 Art's gift for music was evident at a young age when he readily picked out tunes on a penny whistle gifted to him by a relative at his family home in Manchester. He progressed to the clarinet. A bright and serious student at Manchester Grammar School, the only blot on his otherwise unimpeachable school career occurred when his pale imitation of Monty Sunshine, the clarinet star with Chris Barber's Jazz Band, during a lunchbreak incurred a detention; there being no place for 'the devil's music' in the scholarly environs of an institution that stood at the 'top of the tree' for academic achievement. Undeterred, a 'trad' band was formed which eventually won round the school authorities. Art credits its trumpeter, Barry Dixon, a Bix Beiderbecke devotee, with helping to shape his early steps in jazz.
His arrival at Cambridge University to study medicine broadened his musical horizons. By now he had fallen under the spell of tenor sax giants Dexter Gordon and Sonny Rollins and switched to the instrument himself. He joined the Cambridge University Jazz Band, alongside fellow saxophonist Dave Gelly, bassist John Hart, and with first George Walden and later Jonathan Lynn on drums, each of whom rose to respective success in music/writing, music, politics and acting/writing.  At first a rather sedate 'middle-of-the-road' outfit, the 'off-the-wall' influence of Lionel Grigson changed all that when he took over the piano chair and lifted the band to near professional standard with a swinging hard-bop style that swept the board in the fiercely contested Inter-University Jazz Band Competitions of the early 1960s.
Still a student, though now based at St. Mary's Hospital Medical School, Art soon found himself drawn into the ferment of the London jazz scene as a member of the Charlie Mingus-styled Alexis Korner Blues Incorporated. Art remembers Alexis as being an indifferent musician, but a 'mighty leader with tremendous energy'. A cartoon picture penned at the time depicts the band travelling to a gig in a ubiquitous Bedford Dormobile.  Art sits amid the wild, goggle-eyed company of Alexis himself, saxophonists Dick Heckstall-Smith and Graham Bond, and drummer Ginger Baker; his attention firmly focused on a copy of 'Grey's Anatomy' and with a bubble emerging from his head saying, 'The kneebone's connected to the thighbone …' It was all a terrific grounding for a young musician and a vivid insight into life on the road.
Having 'paid his dues' with Alexis and nearing completion of his medical studies, Art was now on regular 'call' in both his professions. He played in the innovative bands of Graham Collier and began an association with Michael Garrick, as a member of his sextet and ambitious choral works such as 'Jazz Praises' which endured until the pianist's death in 2011. Art's serpent-like solo on 'Temple Dancer' from Garrick's album 'The Heart is a Lotus' is a fine example of his playing from those days.
Stan Tracey stands as a monumental figure in Art's career. Not that he ever got to know the taciturn Stan closely despite the length of their association which began in 1975; but as someone whose music commanded Art's utmost respect. Art recorded with various sized Tracey line-ups, including the classic album 'Captain Adventure' and travelled extensively with Stan across the world. One trip took the quartet to the Jazz Yatra Festival in Bombay in February 1978 where Art met his idol Sonny Rollins for the first time. It was a brief encounter, but as Art recalls, 'It was a measure of the man that when we met again at the Queen Elizabeth Hall three or four years later, he remembered me and greeted me warmly with "Hello Art". I didn't get as close to Dexter, but I did play with two of his sidemen, Tete Montalui and Alex Reill on a date in Barcelona.'
Alongside his work with Stan, Art branched out on a free-lance career. Amongst solo guest spots and gigs with fellow protagonists like Don Weller, he played with the Berkshire Youth Jazz Orchestra on many occasions, an inspirational force for young players, such as alto saxophonist Simon Allen, who progressed through its ranks.  He maintains an open and supportive ear for young talent, loves playing with Clark Tracey's 'finishing school' for emerging players and plays his own role in encouraging the new generation; star trumpeter Laura Jurd first came to the attention of many jazz fans as a member of Art's New Directions Quintet
Art stands in awe of the accomplishments of today's young musicians and believes that the 'Keys for the future are in safe hands'. He counters the old adage that their playing lacks soul with the comment that 'What passes for soul amongst us oldies, is often no more than a schmaltzy vibrato when the lip goes.' His advice to young players is similarly succinct, 'Yes, creating jazz is a serious business and we all aim to grow as players through performance and practice, but the pursuit of perfection can be self-destructive. Nobody wants to see a 'Po-Face' on the stand, so let's always remember that jazz is about having fun. That's what we want to communicate.'
Art has had the good fortune to play with Charlie Rouse, for many years a cornerstone of the Thelonious Monk Quartet, and beboppers Red Rodney and Al Haig, who both played with Charlie Parker. 'Working with those guys was like being in church and a touch away from God,' Art recalls. There was a darker side to the introverted Al Haig however. 'Al played wonderfully well, but he was alleged to have murdered his third wife. I slept with my bedroom door securely locked when he stayed with me at my then home in Eldon Square. After Al died in 1982, the truth emerged that he was a serial abuser and that the accusations were almost certainly true.'
Art's freelance career has taken on a new momentum since he retired from medicine fourteen years ago, making him one of the most sought-after musicians on the UK and international jazz scene, with a busy schedule of guest and festival appearances averaging three to four a week. As he approaches his eightieth portal in November, his playing is as exciting and adventurous as ever.
At the time of writing, his diary includes solo dates as far afield as Ilminster and Lincoln, a quartet gig with Gareth Williams, Andy Cleyndert and Clark Tracey in Nottingham, an organ trio with Pete Whittaker, a gig with John Etheridge, a tribute to Sidney Bechet in Holborn and depping for Theo Travis with Soft Machine in Norway. What could amount to a relentless treadmill of activity is leavened by his love of playing, joy in driving around the country in his beloved Mini, a close-season winter skiing break in France and the relaxing surroundings of his riverside home in Henley.
Art Themen has brought joy to thousands throughout the course of his astonishing career; the world-class quality of his playing and his personal warmth and generosity a welcome addition to any bandstand. May he continue to do so for many years yet to come.
Article by Trevor Bannister
Photo by Merlin Daleman