American High School musical concert | Henley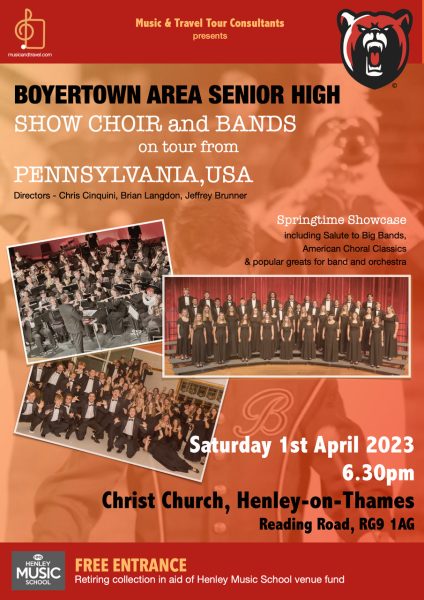 Sat 1 Apr | Boyerton area Senior High  on tour from Pennsylvania USA | Christ Church, Henley-on-Thames RG9 1AG | 6:30pm | Free entrance with collection in aid of Henley Music School venue fund.
This American High School Music Department will be staying in London for five days  where they will be giving a masterclass in St John's Smith Square, attending a West End Musical, and an LSO concert at the Barbican. They will  be coming to Henley-on-Thames to give this special performance. A rare chance to hear young musicians from Pennsylvania on tour in Henley! This will be an inspiration to both young and not-so-young and we invite you for a showcase of enticing music – ranging from Big Band, show tunes and popular classics.  There are 80 performers in total – a band, an orchestra and a choir – and we'd like to give them a proper Henley welcome by having a good turn out from the community.
---