Zoë Gilby Quartet – March 2023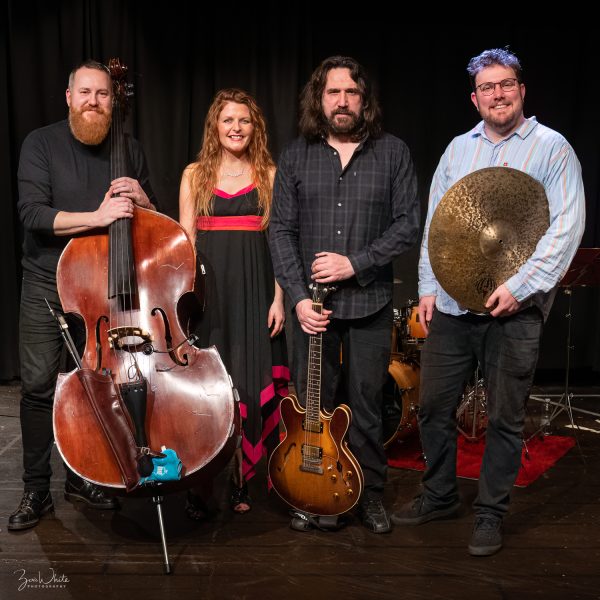 Progress Theatre, Reading, Friday 17 March 2023
Zoë Gilby vocals | Mark Williams guitar
Andy Champion double bass | John Bradford drums
If there were any signs of the travelling blues after a 300-mile, 5-hour journey from Newcastle-Upon-Tyne to Reading, they weren't visible as prize winning vocalist of the 2019 Parliamentary Jazz Awards, Zoë Gilby and her musical companions lit up the stage with their debut performance for Jazz at Progress.
By the second chorus of the opening number, 'Travelin' Blues', a 1961 recording by jazz legends Dave Brubeck and Carmen McRae, Gilby had the audience eating from the palm of her hand; her sense of swing and expression, the clarity of her diction and the unique qualities and range of her voice was simply enthralling. Clearly, this held the promise of being a 'special' evening. We were not to be disappointed!
Maybe the second number, 'In it Together' a delightful Gilby original in waltz-time gave the best possible clue as to what her approach to music is all about – sharing – a basic ingredient of all great jazz.
Nor should one forget humour, albeit in this case of the sardonic variety – a quality that permeated 'You Turned the Tables on Me', an enigmatic popular song first made famous by bandleader Benny Goodman and his vocalist Helen Ward way back in 1937.  The lyrics present a brave face on the reality of 'Being Dumped' and that 'I got what was coming to me'. Should there be any regrets? An astonishingly full-bloodied scat solo (closer in style to Louis than an Ella flight of invention) cut to the heart of the matter and left no doubt about Gilby's true feelings. Revenge!
In a measure of Gilby's versatility, she moved seamlessly from the 'killer-diller' days of the 'Golden Age of Swing' to the poetic magic of 'Aurora', a collection, one could say a 'suite', of her own lyrics set to the melodies of American trumpeter/composer Tom Harrell.
In the first three pieces to be presented, the titles alone – 'Ebb and Flow', 'Shadowed in Solitude' and 'Forget the Past' – evoke vivid images in the imagination. The subtle combination of words, melody and the sensitive support and inventive solos of Williams, Champion and Bradford proved to be absolutely spellbinding. One line in particular, from the joyfully optimistic 'Forget the Past' will remain with me for a long time hence, 'the adventure never waits'. What a message for getting on with life!
'Your Words', another original and also a tribute to vocalist Jacqui Dankworth whose performance at the Sage concert hall in Gateshead and encouraging words helped to inspire  a youthful Zoë Gilby,  packed a more direct emotional punch. A wailing solo from guitarist Mark Williams echoed the sorrow and bitterness of the vocal.
Everyone cut-loose for the final number of the first set with a romping, free-flowing  interpretation of Wes Montgomery's 'West Coast Blues', featuring a stunning solo from bassist Andy Champion and a hilarious scat from Ms. Gilby in honour of St Patrick's Day appraising the various merits of Guinness – the interval drink of choice which was apparently in short supply at the bar.
The huge, soulful Mingus-like sound of Andy Champion's bass came to the fore in a duo with Zoë Gilby to open the second set with Tom Wait's earthy 'Way Down in the Hole'.
This outstanding performance was matched in emotional impact by a deeply moving interpretation of Leon Russell's 'A Song for You' – a piece with special meaning for Gilby which she sang at her father's wake.
The enchanting 'Leap to the Limelight' took us back to the magical paring of a Tom Harrell melody with Zoë Gilby's lyrics. This captured the spirit, with marvellous interplay between the members of the band, of those who are simply born to dance.
'Secret Love'  demonstrated yet again Zoë Gilby's remarkable versality  with a tribute dedicated to Doris Day and Carmen McRae. Describing them as the 'Ying and Yang' of popular song, she proceeded to first sing the song  in the style of Doris, filling the auditorium with the soaring power of her voice and secondly in the more intimate, sassy style of Carmen. Brilliant!
The next number began life as the instrumental 'Concerto for Cootie ' featuring trumpeter Cootie Williams with the Duke Ellington Orchestra. Lyrics were later added by Bob Russell to create 'Do Nothin' Till You Hear From Me', performed here as a rather cheeky rhumba. The light and shade of John Bradford's drumming was especially effective. He has that rare quality of being able to swing without having to turn the volume control up to 11.
Zoë Gilby's creativity and love for words bore further fruit in 'Your Dear Heart, My Dear Heart', a beautiful reflection that love is simple, 'it's everything else that's complicated', based on Tom Harrell's melody 'Scene'.
Patrick Hamilton's 1929 novel 'Twenty Thousand Streets Under the Sky' provided the inspiration for 'The Midnight Bell', an evocation of a seedy East London pub inhabited by a rich variety of  nefarious characters whose stories the novel relates. The words and music captured the darkness of the atmosphere perfectly.
'Centerpiece' credited to trumpeter Harry Edison and ace-vocalist/lyricist  Jon Hendricks brought the evening to a swinging and rousing close.
The warmth, exuberance and creativity of Zoë Gilby's performance and the musicianship of her quartet will have secured a place in the affections of the Progress audience. Let's hope that it's not too long before they make a return visit to Reading. Meanwhile, check out her album 'Aurora' on this link https://zoegilby.bandcamp.com/album/aurora
As ever, thanks to our hosts at the Progress Theatre for the excellent sound and lighting and for taking good care of our safety and refreshment.
And finally, but by no means least, our thanks to House Photographer Zoë White who is relinquishing her role to concentrate more time in other pursuits including singing. Zoë has assembled a unique record of performances at Progress over the past eight years which grace the Gallery on the Jazz in Reading website – a wonderful reminder of some great jazz moments. https://www.jazzinreading.com/gallery/
Thank you Zoë … we shall miss you, but wish you every success in the future.
Review posted here by kind permission of Trevor Bannister
Photo by Zoë White Photography
---