Daily Archives:
June 4, 2023
---
Sun 4 June | Jazz Lunch: Phil Craddock Trio | Phil Craddock piano, Brian Throup double bass, Jim Wade drums | The Relais Henley, Hart St. RG9 2AR | 1 – 4pm | Lunch reservations 01491 572161 or info@therelaishenley.com
---
Sun 4 June | Ciyo Brown's Acoustic Soul Sessions | Geraldine Reid – Vocals, Ciyo Brown – MD/Guitar , Larry Bartley – Bass , Sean Hargreaves – Piano | Bishop's Court Farm, 91 High St, Dorchester on Thames OX10 7HP | Doors: 6pm Show: 7-9pm | £20 | Tickets
One of the most in-demand and virtuosic guitarists in British music, Ciyo Brown has worked with an eclectic array of iconic musicians including Annie Lennox, Paul Weller and Pee Wee Ellis. Known as 'the Gentleman of Jazz' and frequently compared to George Benson, his laid-back liquid licks are unmistakable. For this special show, he'll be joining forces with singer Geraldine Reid, mixing up a cool cocktail of jazz and soul classics in their own inimitable style.
---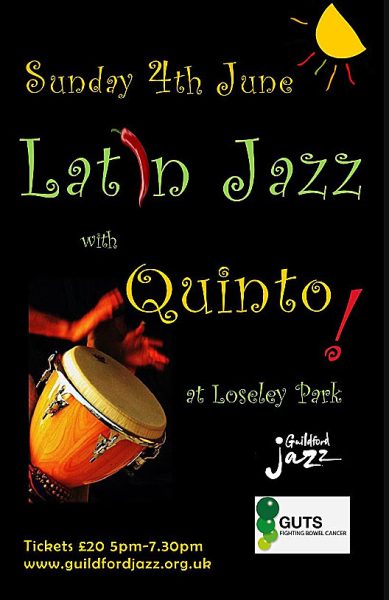 Sun 4 June | Guildford Jazz at Loseley | Quinto! and the Farnham Big Band | Loseley Park, Guildford GU3 1HS | Open from 4.30 pm Jazz from 5.00 pm to 7.30 pm| Tickets £20 (discounts for members and students) from here
Midsummer Jazz at Loseley Park returns to celebrate GUTS 40th year! Come rain or shine, this is always a fabulous event – a chance to enjoy some really outstanding musicianship in the relaxed atmosphere of this most beautiful of settings. This year we've some sizzling Latin Jazz for a summer's evening featuring the rhythms of Brazil and Cuba with Quinto!
---
Sun 4 Jun | Paul Higgs trumpet, Terry Hutchins guitar, Andy Crowdy double bass, Jim Pollard piano, Brian Greene drums | Pangbourne | PWMC | 7.30 pm | £12.50 – tickets here or on the door
---