Gigs
---
Greetings listeners. Next week welcomes to my broadcast a set of live numbers from Doreen Marie Milner Edwards at the Trio Saison club, Manchester. One of our best Jazz vocalists. Also on the show is Jeremy Yourpeltness Pelt advising us on love. Jo Harrop Music, `Things are changing.` Rob Luft with `be water, be friend.` Tony Kofi Music on a live take of `things are getting better.` Bobby Quigley's Organ Trio with the `lean years`. and finishing with Jonny Mansfield Quartet. If this looks interesting then pass it on and listen in 24/7 at www.mixcloud.com/stevebewick 

---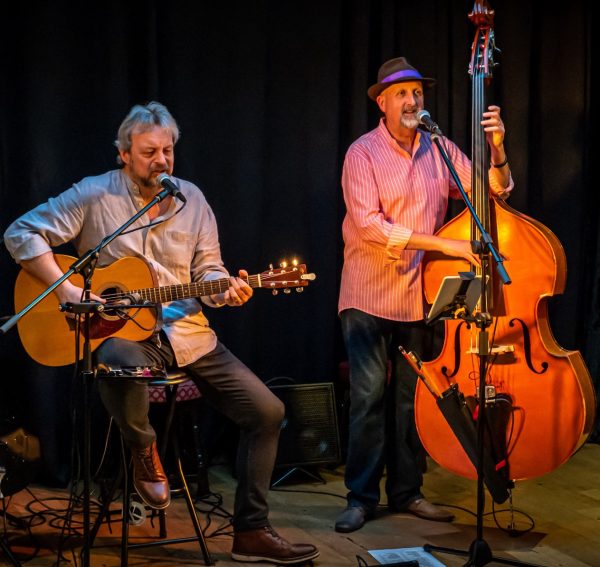 Sun 3 Dec | Wood and Steel | Jon Walsh guitar, Brian Throup bass | The Relais Henley, Hart St. RG9 2AR | 1 – 4pm | Lunch reservations 01491 572161 or info@therelaishenley.com
---
---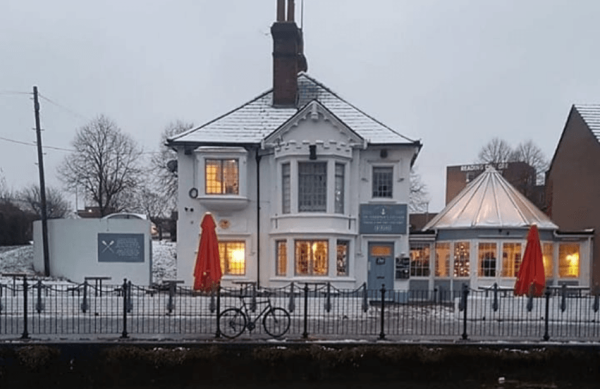 Tues 5 Dec | Jazz at The Fisherman's Cottage | 5thframe | Leslie Kett  trumpet, flugelhorn and percussion, Danny Reuben tenor sax, bass clarinet and flute, Paul McCarten keyboards, Steve Pierce bass, Jim Wade drums | Fisherman's Cottage, Kennet Side RG1 3DW | Music from 8pm | Free entry, donations welcomed.
Every fourth Tuesday: next date 2 Jan

Live music. Free entry. Excellent food and drink. And a lot more space than the late-lamented Global Cafe.  Who could ask for more?
Parking at The Fisherman's Cottage, on surrounding streets or take an easy stroll along the Kennet from the Queen's Road car park – park for just £3.60 for the evening. More parking information here
---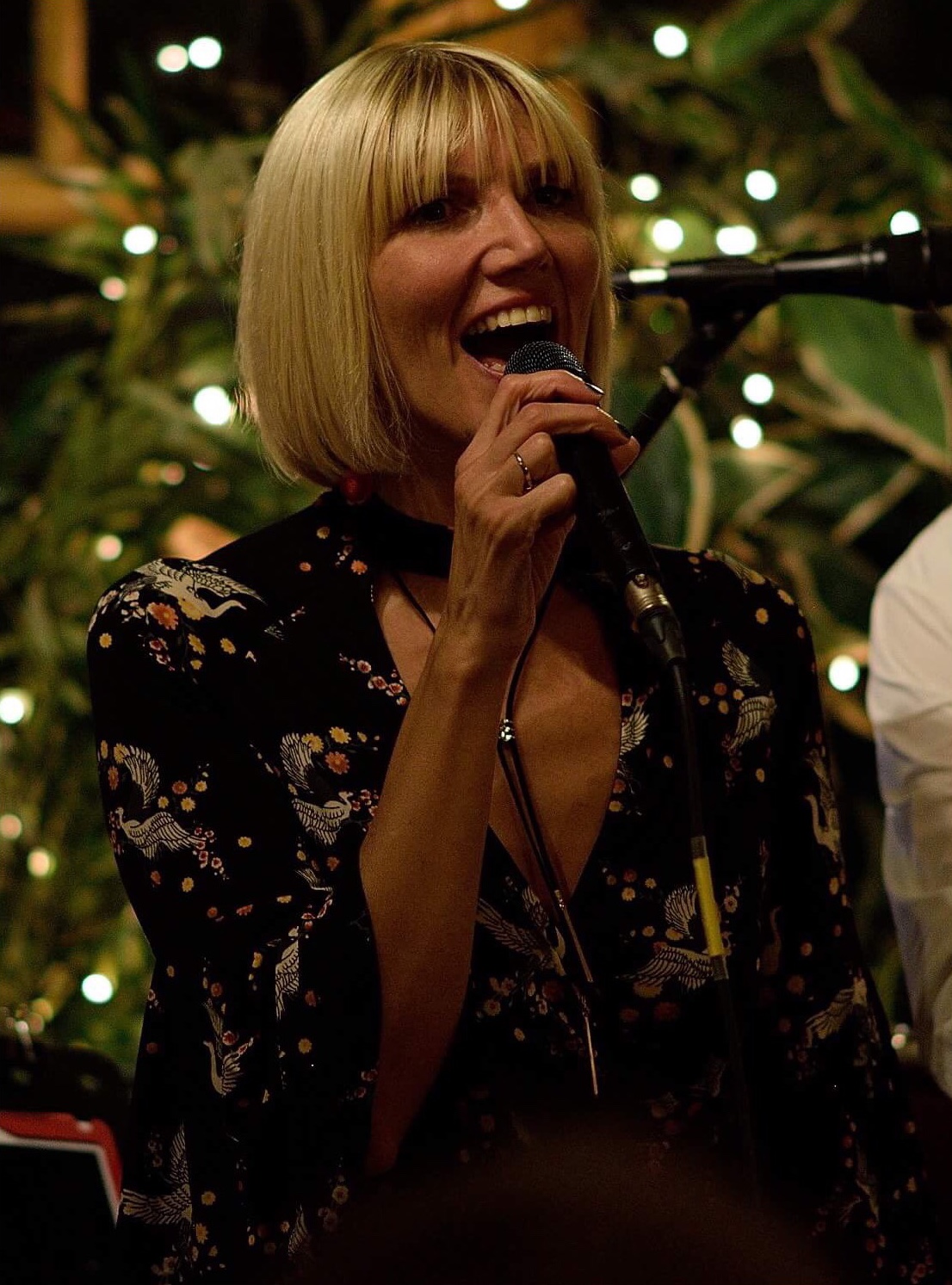 Tues 5 Dec | Equinox Quintet with Sarah Jane Eveleigh | Sarah Jane Eveleigh vocals, Peter Bingham tenor sax, John Clarke guitar, Derek Alford bass, and Paul Kaluza drums | Four Horseshoes pub, Sherfield-on-Loddon RG27 0EX | 8pm to 10.30pm | Four Horseshoes | No charge for admission (donations are welcomed)
---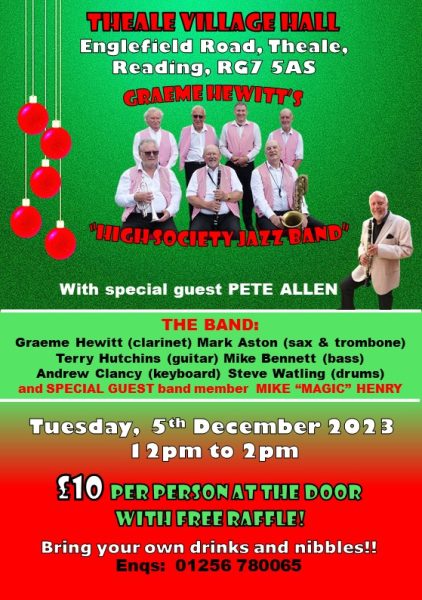 ---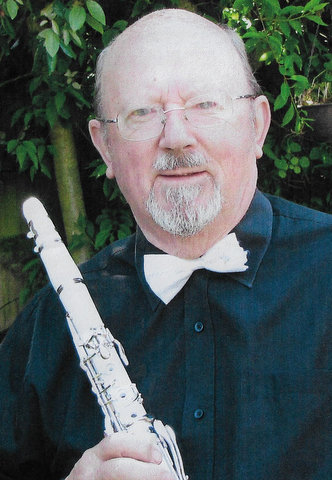 Tues 5 Dec | Graeme Hewitt and his High Society Jazz Band Christmas Party | Theale Village Hall, Englefield Rd, Theale, Reading RG7 5AS | Midday. Mike Henry is the band's trumpet player and Pete Allen will also be a guest. Bring your own Christmas Snacks and drinks, there is a free raffle included and some great jazz all for the sum of £10.
Graeme Hewitt now 84 and after more than 50 years, still leads his High Society Jazz Band which plays on the first Tuesday every month at Theale Village Hall. Aware that most of his followers are now 'mature folk', don't like driving in the dark or late nights, the band has been playing starting at midday and enjoying good attendances.
Mike Henry who was with Chris Barber for twenty years has established himself on trumpet with Graeme, a lovely guy and great musician.  Andrew Clancy is with the band on piano and is the regular pianist but has a full-time job so leaves room for deps to pop in on the days he has to show his face at work – he is with us here for this special party. An unexpected guest – an old friend of Graeme, Pete Allen – joins the party, so along with the band, Steve Watling on drums, Terry Hutchins guitar, Mike Bennett on double bass and Mark Aston on baritone sax, trombone and several other instruments,  we plan to have a great party with lots of seasonal melodies. If by chance you can't make it Graeme videos every session and it can be seen on YouTube usually by the following day.
During the session there is a free raffle organised by Marian and Jane and because there is no bar so you can save a fortune by bringing you own drinks, and being Christmas the refreshments, down to you, often take on a seasonal display. Candles, balloons, Christmas decorations and seasonal hats  make the band's partyone not to miss and with a few carols thrown in a great lead up to that special day, not to mention a bit of wonderful jazz.
---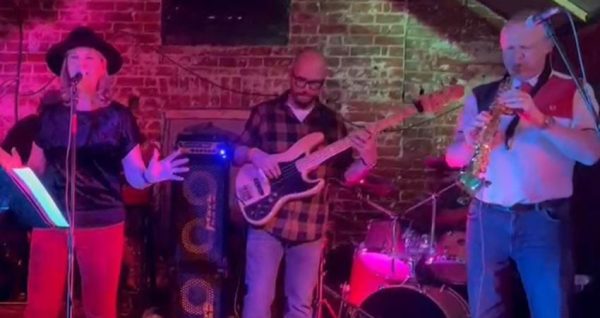 Thurs 7 Dec | FSJB present Fusion 6 plus Supporting DJ sets from Dave Crocker | Andy Kennedy saxes, flute and EWI, Tony Imbierski keys, Paul Wallace bass, Tony Mckenna drums, Alison Rolls vocals | The Butler, 85-91 Chatham St RG1 7DS Reading | 8 – 11.00pm | £6 in advance at WeGotTickets, £8 on the door | More info https://fsjbmusic.uk/
FSJB@thebutler in Reading has established the First Thursday of the month as a club style night for quality live music covering a variety of genres with a Funk Soul Jazz & Blues vibe. 7 December will be the last one of 2023 and to celebrate our first year we have Fusion 6 playing live in the Butler's live room The Left Wing! Come along – with your dancing shoes – for an exciting repertoire featuring tunes from funk, soul and jazz fusion greats such as Herbie Hancock, The Crusaders, Gil Scott-Heron, James Taylor Quartet, Corduroy and many more.
---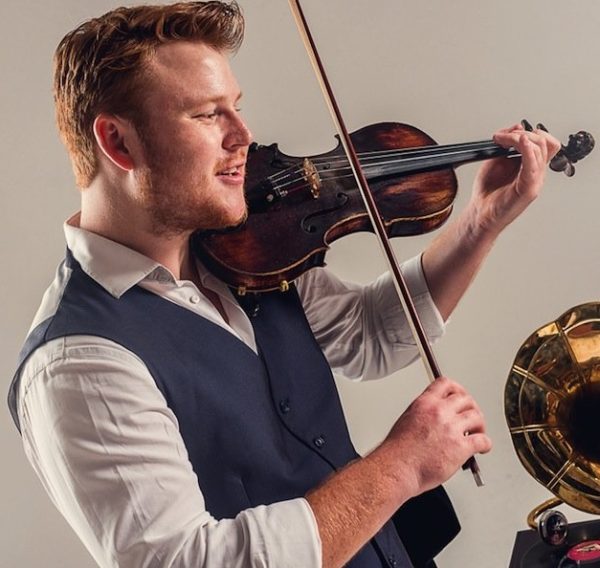 Fri 8 Dec| Guildford Jazz at the Stoke | Ben Holder "Hot Club Jazz" | The Stoke Pub, 103 Stoke Road, Guildford, GU1 4JN | Doors Open 7.15 pm, Jazz from 8.00 pm | Tickets £18 (Discounts for Members and Students) from here
Hot Club excitement with Ben Holder, the rising star of Stephane Grappelli-style jazz fiddle and arguably one of the most gifted and exciting jazz musicians you will see live today. An energetic mix of traditional jazz, mainstream and swing with a sprinkling of Ben's own infectious originals, all harking back to the fun and abandon of the 1920s and 1930s.  With Caley Groves – guitar, Nick Milward – drums and Marianne Windham – bass.
---
Fri Dec 8 | Songstress Fleur Stevenson, Maff Potts piano, Howard King bass, Mike Goff drums | Goring Community Jazz Club,Old School House, Station Road Goring RG8 9AZ | Doors 7pm Band 7:30 pm | £10 | Tickets from here or from Inspiration The Arcade Goring-on-Thames. Cash or Card on the door
---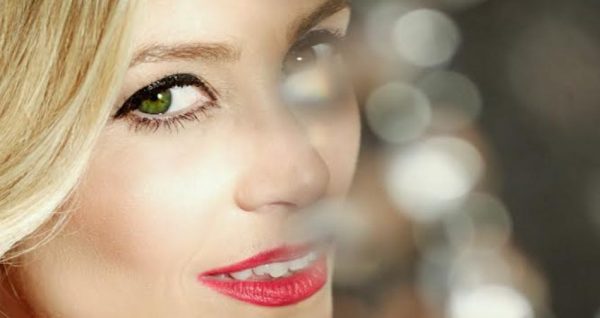 Sat 9 Dec | Rebecca Poole vocals, Hugh Turner guitar , Stu Henderson trumpet and percussion, Raph Mizraki acoustic bass and other instruments | Abingdon Theatre, Medieval Abbey Buildings, Checker Walk OX14 3JB | Doors 7:30pm, start 8:00pm | £16 – book here
The utterly fabulous Rebecca Poole comes to the Unicorn with her A team! Promoting a new album, playing old favourites, new compositions and maybe one or two Christmas favourites. This will be a night to remember.
---

Sat 9 Dec | All Star Christmas Special: Bateman Brothers Jazz Band – The Music of Louis Armstrong | Crowmarsh Jazz Club, Crowmarsh Crowmarsh Village Hall, Benson Lane, Crowmarsh Gifford, OX10 8ED | Bar and pizza available | Doors 6.45pm, show 7.30pm | £15 (£5 for Care workers & people on benefits): https://crowmarshjazz.co.uk
---
Sun 10 Dec | Jazz Lunch: Simon Cook Trio | Simon Cook piano, Marianne Windham double bass, Jim Wade drums | The Relais Henley, Hart St. RG9 2AR | 1 – 4pm | Lunch reservations 01491 572161 or info@therelaishenley.com
---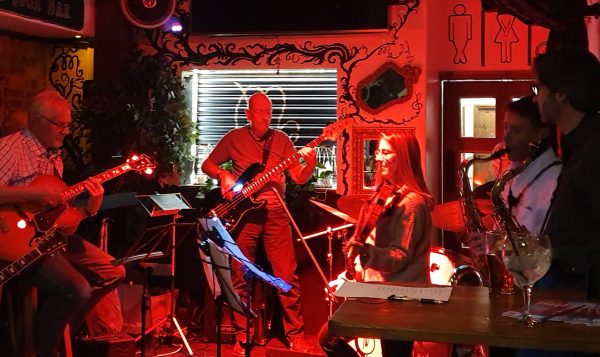 Wed 13 Dec | Magoos Jazz Jam | Magoos, 22 Hart Street, Henley RG9 2AU | Second Wednesday of the month | All instruments and levels of experience welcome  From 7:30pm | All welcome to listen, please contact bryanmccrae@gmail.com in advance if you'd like to play | Free entry
---
Fri 15 Dec | Fleur Stevenson, Hugh Turner Jazz Duo | Cornerstone Arts, Didcot | Jazz vocals and guitar accompaniment | 5-7pm | Free entry
---
Fri 15 Dec | Rebecca Poole ace singer with Hugh Turner guitar Raph Mizraki acoustic bass, and special guest Stu Henderson trumpet, vocals and percussion  | Five Horseshoes Maidensgrove nr Henley-on-Thames RG9 6EX | 8pm start | £20 music cover | Reservations 01491 64128. Diners only, you must book. Christmas special , book early !
Continuing the Five Horseshoes monthly jazz evenings. Fab food, full menu and bar, superb atmosphere, great jazz artists. Usually every last Friday of the month
---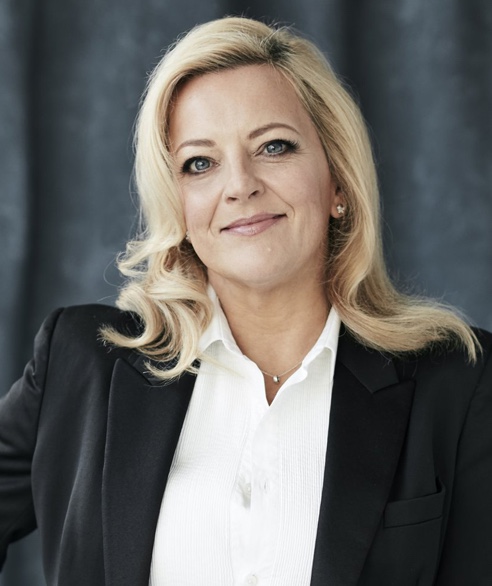 Fri 15 Dec | Guildford Jazz at St John's Church | Claire Martin's Christmas Cracker | St John's Church, Farncombe, Godalming GU7 3EJ | Doors Open 7.15 pm, Jazz from 8.00 pm | Tickets £22.50 (Discounts for Members and Students) from here
An evening with multi-award winning vocalist Claire Martin OBE and her quartet. Expect some stylish reworkings of much loved standards from the Great American Songbook, plus some Christmas classics to enjoy and sing along with!  Claire is hailed as ranking among 'the four of five best jazz vocalists on the planet' by Jazz Times USA.  With Rob Barron – piano. Jeremy Brown – bass and Mark Taylor – drums.
---
Sun 17 Dec | Simon Price & Guests | Fliss Gorst sax, Peter Billington keyboards, Simon Price drums, Stuart Barker bass | The Retreat, 8 St John's Street, Reading, RG1 4EH | 3pm | Free entry
Simon Price and his guests will be delivering jazz arrangements of Christmas carols that Peter Billington has arranged. It should be a fun gig. Christmas carols in the jazz genre.
---
Sun 17 Dec | Jazz Lunch: Lawrie Wright Trio | Lawrie Wright piano, Brian Throup double bass, Jim Wade drums | The Relais Henley, Hart St. RG9 2AR | 1 – 4pm | Lunch reservations 01491 572161 or info@therelaishenley.com
---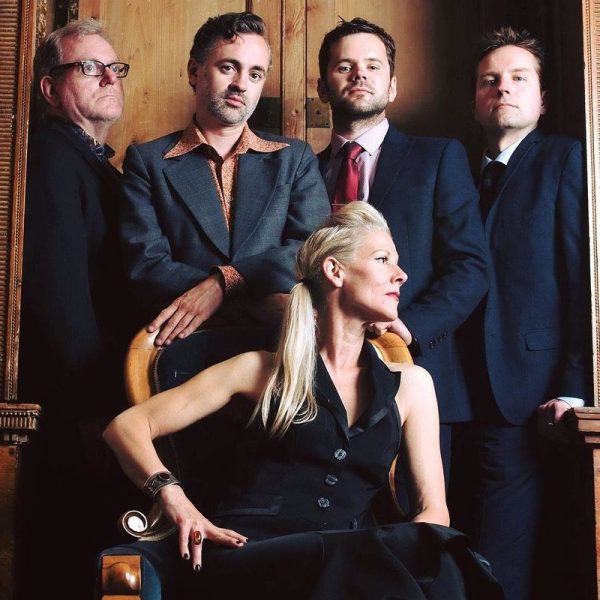 Fri 22 Dec | Moscow Drug Club | Katya Gorrie vocals, Jonny Bruce trumpet, Mirek Salmon accordion, Andy Bowen guitar, Andy Crowdy bass | Progress Theatre, The Mount, Reading RG1 5HL | 7: 30pm | £19.00 (£17.00 concessions, £10 under 16) plus maximum 5% booking fee | Details
SOLD OUT
---
Sat 23 Dec | Bossa Gringo Latin Quartet | Featuring Hugh Turner guitar, Toliy Vyacheslavov saxophones and percussion | Mockbeggars Hall Blewbury OX119QQ | Private house concert , strictly advance bookings and payment | 7:30 doors, 8pm show | £30 | Tickets: Izabela@dircon.co.uk
This is a fabulous project created by saxophonist Toliy and good friend, guitarist Hugh Turner. This exciting quartet of crack musicians – Bossa Gringos takes Latin rhythms (Bossa Nova, Samba, Rhumba etc) and the iconic musicians who famously played this style (Stan Getz, Dizzy Gillespie, Antonio Jobim etc) and breathes new life into well known and not so well known melodies. The result is exciting stuff, with lilting rhythms, intriguing arrangements and some spectacular solo work from all four members. Unusually, the quartet boasts two bassists (Raph Mizuraki and Paul Jefferies), although they will alternate between percussion, acoustic upright bass and bass guitar. We promise, you'll love it!
---
Sat 30 Dec | P'Jam
 | Annie Parker flutes, Phil Craddock piano, Marianne Windham bass, Jim Wade drums | The Angel, Woolhampton RG7 5RT | Music from 8pm | Free entry. Call 0118 971 3827 to make dinner reservations
Fronted by the exuberant Annie Parker on flute and bass flute, P'Jam is a joyful quartet of musicians who simply enjoy playing jazz together 
in sometimes slightly unexpected and spontaneous ways. With a repertoire that
 spans Miles Davis to the Beatles, expect an evening of great music in good company!
---