Gigs
---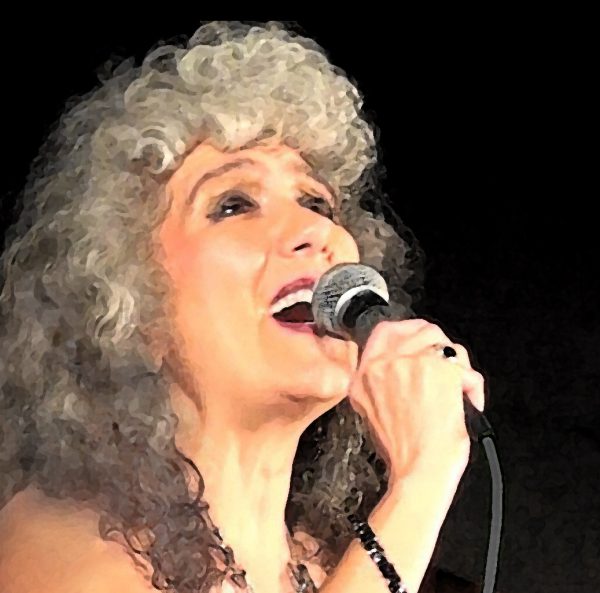 Sat 3 Sep | Lea Lyle Quartet | Lea Lyle vocals, Phil Craddock piano, Mke Bennett bass, Jim Wade drums | Reading | Queens Head 54 Christchurch Rd, RG2 7AZ | 8pm | Free entry
---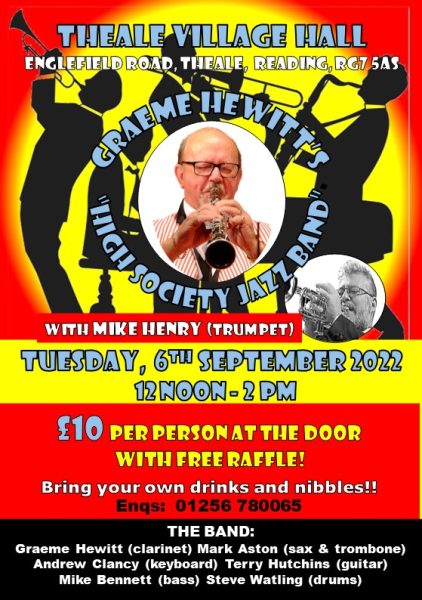 ---
Fri 9 Sep | Jazz at The Goring Community Jazz Club | Sarah Bolter sax flute clarinet & vocals Nick Hill piano, Howard King bass, Mike Goff drums | Goring Community Centre, The Old School, Station Rd, RG8 9HB | 7:30 pm | £10 | Please book early to avoid disappointment – tickets here, from Inspiration Goring or cash or card on the door.
---
Fri 9 Sep | Art Themen and friends | Whitty Theatre, Luckley Road, Wokingham RG40 3EU | Art Themen sax, Mike Gorman pianist/keyboardist, Steve Brown drums, Fleur Stevenson vocals, Andy Crowdy double bass | Doors 6:30pm, performance 7.30pm | £20 | Tickets here | Bar is open before, during interval and at the end | All proceeds raised from this event will go to Wokingham In Need for distribution to worthy causes.
---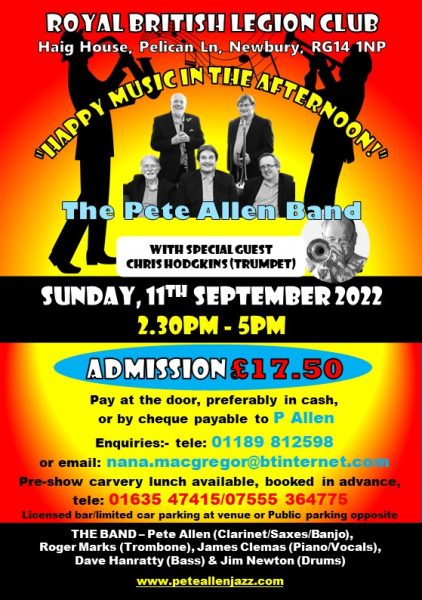 ---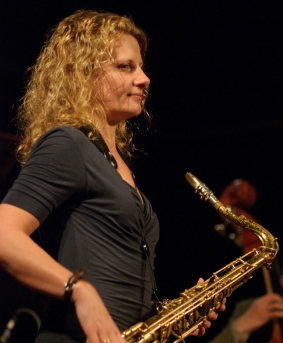 Tues 13 Sep | Marlow Jazz Club | Karen Sharp​​​​​​​, tenor and baritone, ​​​​​​​Freddie Gavita ​​​​​​​trumpet, ​​​​​​​Frank Harrison piano, Elliot Toms ​​​​​​​drums, Stuart Barker bass | Royal British Legion Hall SL7 1NT | 8.30pm | £10 | The multi-award winner Karen with a brilliant young trumpet star. Seats can be saved for you if you phone 01628 486571
---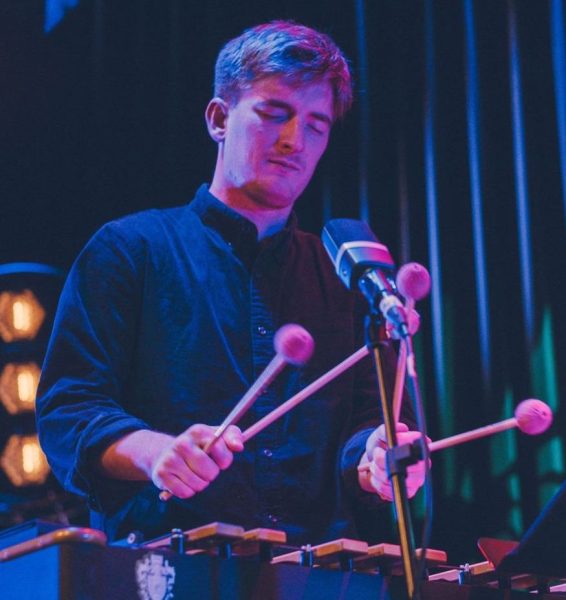 Fri 16 Sep | Jazz at Progress: Jonny Mansfield Quartet | Jonny Mansfield vibraphone, Noah Stoneman piano, Will Sach bass, Dave Hamblett drums | Progress Theatre Reading | 7:30pm | £18.00 (£16.00 concessions, £9 under 16) plus maximum 5% booking fee | More info and tickets here
Jonny Mansfield is an award-winning percussionist and composer. He has worked with international artists such as Chris Potter, Orlando Weeks and Yazz Ahmed, performing worldwide. His quartet explores contemporary compositions whilst communicating through improvisations. Influences are drawn from Norwegian drummer Thomas Strønen, Chilean guitarist Camilla Meza and saxophonist Melisa Aldana.
---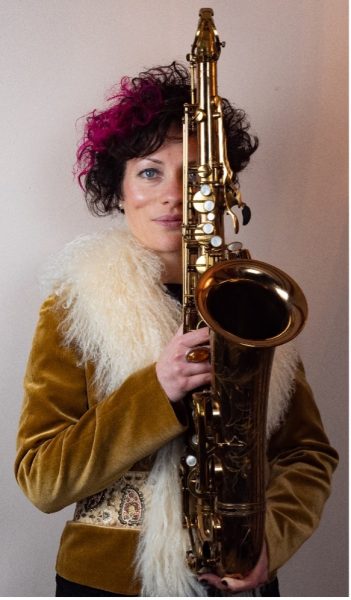 Tues 20 Sep | Hannah Horton saxes, John Crawford piano, Nic France drums and percussion, Rob Statham bass | Fleet Jazz Club, The Harlington,  Fleet, GU51 4BY | Doors and bar open from 7.15pm, performance 8pm | Tickets £20 available here or from the Box Office on 01252 811009 (or on the door, cash or card)
A rising star on the UK jazz scene, saxophonist Hannah's music is rooted in jazz, funk and folk. Honest and authentic, she connects with her audience naturally, both through her personal warmth and her engaging musicianship. Her funky tenor and gutsy baritone saxes are Hannah's creative voice, drawing her audience in with emotion, making them smile with positive vibes and tapping their feet throughout her set
---
Fri 23 Sep | Fleur Stevenson & Hugh Turner Duo | Fleur Stevenson vocals, Hugh Turner guitar | Cornerstone Arts Centre, 25 Station Rd, Didcot OX11 7NE | 6-8pm | Free entry | Full bar available
---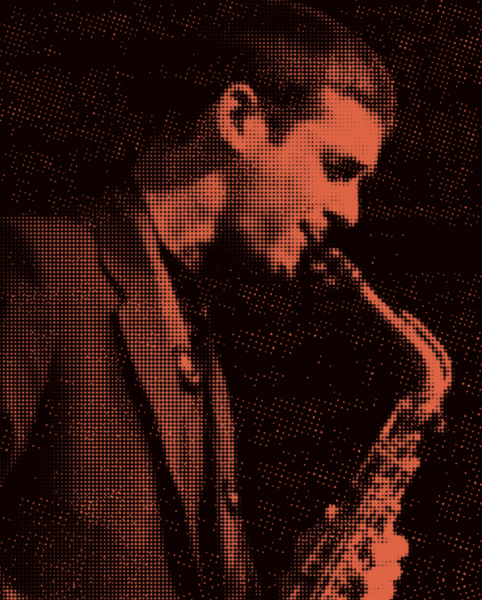 Fri 23 Sep | Tommaso Starace Quartet | Tommaso Starace alto sax, Frank Harrison piano, Mirko Scarcia bass, and Chris Nickolls drums | Benson Parish Hall, Sunnyside, Benson, Oxfordshire, OX10 6LZ | 19:30 to 22:00 | £16 – tickets here | Full bar selling a variety of soft and alcoholic drinks and snacks available.
Tommaso Starace Quartet performs a wide selection of jazz standards, with tributes to Charlie Parker, Cannonball Adderely and Michel Petrucciani, as well as some original compositions. We couldn't be more excited to invite this explosive quartet to Sunnyside Jazz Club, as they perform a set of swingin' hard-hitters, beautiful ballads, and latin grooves! This promises to be a thrilling evening for all, especially the jazz cats out there!
---
Sat 24 Sep | Peter Bingham Quartet| Peter Bingham tenor sax, Phil Craddock piano, Marianne Windham bass,  Jim Wade drums | The Angel, Woolhampton RG7 5RT | Music from 8pm | Free entry. Call 0118 971 3827 to make dinner reservations

Peter Bingham started playing clarinet in his pre-teen years and later converted to saxophone at the age of 15 in order to play in his uncle's dance band. He ran that band after his uncle retired and also played in an organ trio. He began playing modern jazz at a jazz workshop at the West End Centre in the late 1970s. Peter's current band Equinox, formed in 2000, has a 'first Tuesday of the month' residency at The Four Horseshoes, Sherfield on Loddon.
---
Sat 24 Sep | Hard swinging jazz, funk and blues | Hugh Turner guitar, Stuart Henderson trumpet, Anatoliy Vyacheslavov sax, Raph Mizraki double bass, Steve Wyndam drums | Crowmarsh Jazz Club, Crowmarsh Crowmarsh Village Hall, Benson Lane, Crowmarsh Gifford, OX10 8ED | Bar and pizza available | Wallingford | Doors 6.45pm, show 7.30pm | £15: https://crowmarshjazz.co.uk
---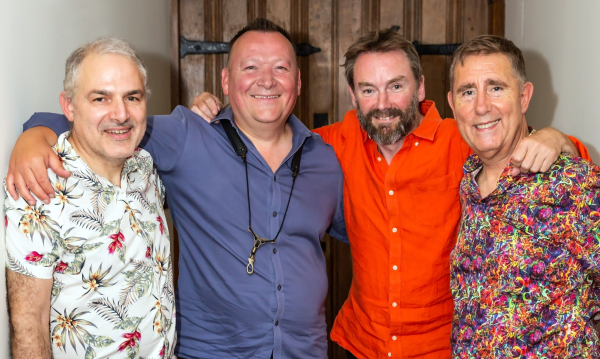 Friday 30 Sep | Bossa Gringo| Five Horseshoes , Maidensgrove, Henley | 8-10.30pm| £16 music cover | Advanced booking only | Full menu and bar availability | Bookings only 01491 641282
Brilliant local saxophone phenomenon Toliy Vyacheslavov's Nu Latin group, featuring Toliy on sax, flute and percussion, ace guitarist Hugh Turner on acoustic nylon and steel string guitar , acoustic bass man Paul Jeffries and polymath Raph Mizraki playing congas, bongos, acoustic bass, electric bass , melodica, cello and whatever else is in his recording studio on the way out of the door! Think Getz, jobim and more.  Not to be missed.
---