Jazz in Reading is a not-for-profit association of five 'nuts' who share a passion for jazz and seek to promote the best of live jazz across the Thames Valley on this website and to present regular concerts in the convivial surroundings of the Progress Theatre, Reading and beyond. Meet the Team
In the past year alone Jazz at Progress has played host not only to established stars of jazz like Gilad Atzmon, Henry Lowther, Tony Kofi, Orphy Robinson MBE, Steve Fishwick and Geoff Castle, representing a broad spectrum of styles from bebop to fusion, but also to the emerging talents of a new generation of musicians such as the eleven musicians who comprise Jonny Mansfield's innovative Elftet. Read reviews of past gigs
The Progress Theatre has a special atmosphere, beloved of audiences and musicians alike. 'Audiences listen here,' commented one musician who regularly plays at London's top jazz spots, while multi-instrumentalist Ben Holder said, 'It's a great venue. We had a blast. Brill audience!' The Progress also has a well-stocked bar! What's on? Is this link here a good idea? We have more info below than at Jazz at Progresss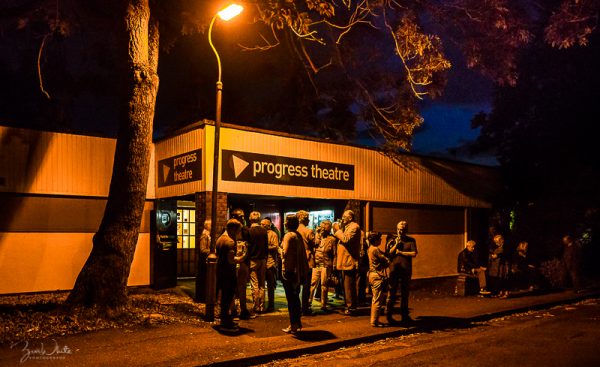 Jazz lovers in the interval break at the Progress – photo by Zoë White
Mark Lockheart's epic six-movement orchestral jazz suite Days on Earth will form the centrepiece for the forthcoming 2019-2010 season of Jazz in Reading's promotions. A joint venture with Bracknell Jazz, this ambitious project will take place on Friday 27 September at the Wilde Theatre, South Hill Arts Centre, Bracknell as part of a major UK tour. Lockheart's star-studded ensemble will be augmented by guests and a string section, in a performance that Lockheart describes as 'the magnificent culmination of the over two billion seconds of eating, sleeping, thinking, playing and composing music'.
This is a rare opportunity to see a major new jazz work outside London and not to be missed! Link to ML blurb to be added

The Jazz at Progress programme itself gets under way on 20 September with the original sounds of Scott Willcox's Ten-Piece Big Band. Trumpeter Quentin Collins will be bringing his Sextet, including Brandon Allen and Tony Kofi on 18 October, followed by a Jazz n' Film Night on 22 November to commemorate the 80th anniversary of Blue Note Records with the Stuart Henderson Quintet and a presentation of the acclaimed documentary 'Blue Note: A Modern Jazz Story'. The ever-popular Alan Barnes and an all-star cast will round off 2019 with a 'A Jazz Christmas Carol' on 20 December.
The programme for 2020 has yet to be finalised but will definitely include visits from Andrew McCormack's Graviton and the Georgia Mancio/Kate Williams collaboration 'Finding Home'.
Lots of great jazz to look forward to and we look forward to seeing you!
---
Preferred dining: We have a special arrangement with The Queens Head (a short stroll from the theatre at 54 Christchurch Road), offering an excellent range of food including a full à la carte menu and specials dishes. Just show your Jazz at Progress ticket for 7% discount off food and drink on the day of the show you are attending; tickets to be presented when ordering.
email: info.queensheadreading@gmail.com
tel: 0118 986 3040


---
Jazz Gig Calendar
When you're in the mood to listen to live jazz, check out lots of other gigs in the area in our Jazz Gig Calendar. The calendar listings are compiled and edited by our listings editors, Paul Johnson and Jim Wade. If you're a musician, promoter or venue owner, you can submit your gig to the calendar here.
Promote Your Gig
We can help you promote your jazz gigs, at a realistic and very reasonable cost. We have a growing mailing list of 860+ jazz fans in the Reading and Thames Valley area, and active Facebook and Twitter feeds, taking our reach to well over 1,800 jazz lovers in the region. Musicians, bands, venues and promoters can contact us to find out more here.
Book a party band
If you are looking for a jazz band for a party, wedding or other special occasion, let us know. We have extensive contacts in the jazz world and can help you find just the right band to suit your needs and budget.
Contact us to find out more here.