John Law's Re-Creations – January 2018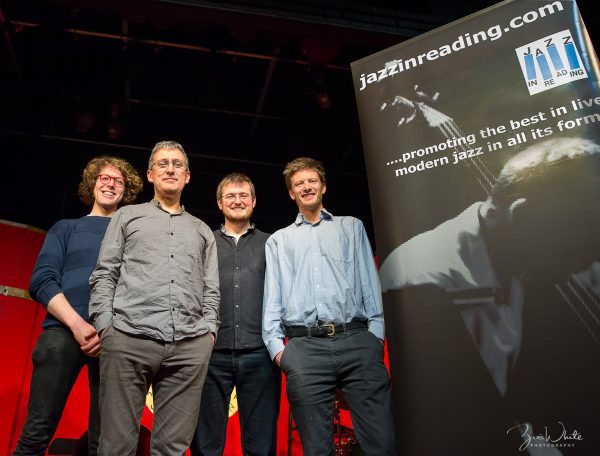 Progress Theatre, Reading, Friday 5 January 2018
John Law keyboards, Sam Crockatt tenor saxophone, soprano saxophone, James Agg bass, Billy Weir drums, percussion
Jazz at Progress 2018 started with an exciting evening's original arrangements of jazz standards, and unusual pop material, from John Law's latest project, Re-Creations.
Jazz always adapted much source material from other genres, notably popular songs. Show tunes from the last century seemed to translate easily, more recent popular genres less so. Re-Creations chooses boldly, and creates distinctive arrangements.
Percussion effects, an understated tenor melody, and orchestral string colours from keyboard, featured in a sensitive interpretation of Sting's evocative ballad 'Fields of Gold', while Radiohead's 'Pyramid Song', originally inspired by a Mingus composition, evoked the sounds of the Middle East in a swirling, intriguing interpretation.
Invited to 'spot the tune' some jazz fans of a certain age may have been defeated by another choice, Adele's ballad 'Hello', but might have found Pink Floyd's 'Money' more recognizable. One of few rock compositions in alternating 7/4 and 4/4 metre, this proved to be a very bluesy, earthy performance.
On 'Call Me Al' from Paul Simon's Graceland album Sam Crockatt played the theme on soprano , moving to tenor for solo. As with other numbers, the piece was marked by rhythmic intensity, in this case, the Afro-American patterns associated with the original album.
Other novel pop selections included Kate Bush's, 'The Man with the Child in his Eyes', and Stevie Wonder's 'I Can't Help It', both in inventive versions, with superb solos.
From the jazz repertoire we heard Monk's blues, 'Straight, No Chaser', but with a deceptive introduction before the theme, and harmonically adventurous solos. His 'Well You Needn't' also started on a disguised intro, then interesting solos, not least mesmeric drum improvisation from Billy Weir, with prominent bass drum work.
Overexposed as a a jazz standard, Gershwin's 'Summertime' emerged in a refreshing, extended version with changes of tempo and metre. The band's classical background shone through in piano and bass counterpoint (recalling Jacques Loussier's Play Bach), and tierce de picardie.
From a much earlier jazz era 'Sweet Georgia Brown' received an ingenious treatment, including a tenor theme statement in half time against an up-tempo background.
Some popular songs have attracted jazz arrangers from the outset, notably Lennon & McCartney's 'Norwegian Wood', here featuring Sam Crockatt's soprano saxophone, and Billy Weir's virtuosity, reminding us of Elvin Jones' polyrhythms.
Throughout the evening, we enjoyed striking arrangements, but also great skill and invention in solos. Sam Crockatt has an original voice (not easy on the tenor), combining extended techniques such as split tone and multiphonics with harmonic fexibility. Billy Weir is a commanding drummer and percussionist. Muscular bass playing from James Agg spurred the band on, in repeated fgures, also in intricate duos with the keyboards. John Law's own playing knitted together complex arrangements , and dazzled in counterpoint and intricate lines, often with electronic orchestral colours.
Thanks to all the Jazz at Progress team for such a great beginning to the 2018 season!
Review posted here by kind permission of Clive Downs
---