Jazz at Progress | Arbenz + Hart + Pursglove = Conversation |

Buy tickets
Friday 22 March 2024 | Progress Theatre, Reading | 7: 30pm | £19.00 (£17.00 concessions, £10 under 16) plus maximum 5% booking fee.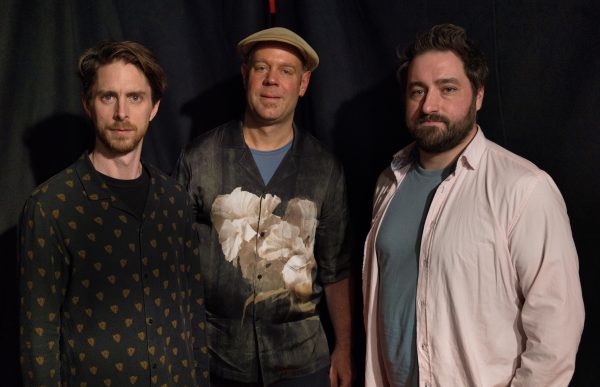 Jim Hart vibraphone, percussion
Florian Arbenz drums, percussion
Percy Pursglove trumpet/flugelhorn
Perhaps best known for his work with trio VEIN, or with American greats Dave Liebman and Dave Osby, Swiss and internationally renowned drummer & percussionist Florian Arbenz is on a mission to release 12 albums with 12 different constellations of musicians – each carefully planned, delicately curated, but ultimately dependent on the inspiration and creativity that the players generate on the day.
From his custom-built Hammerstudio in Basel, he brings together both musicians he's known for years and those that he's only admired from afar.
He has created such an album with the UK's Jim Hart- Convergence. Now Percy Pursglove joins them in this exciting European trio tour to launch the new album Conversation.
An  exploration of the realm between jazz and improvised music, the trio's sophisticated and open-minded sound is equally comfortable in either world. Vast in texture and feeling, rapid shifts  between tight, syncopated grooves, flurries of virtuosic trumpet, passages of melancholic openness, and powerfully dense harmonies. All can be experienced as a foretaste here.
Jim Hart hit the UK scene with immediate impact around 2006 with various groups of his own and is a fixture in the band of Danish sax genius, Marius Neset. Jim is much in demand in Europe and the UK and all this in addition to his own leadership of the trio Cloudmakers who have released several albums since 2012.
Percy Pursglove may not be well known on the jazz circuit, but he is immersed in the music as a multi-instrumentalist trumpeter, double bassist, educator, improviser and composer, working internationally across a broad spectrum of jazz, contemporary, classical and creative musical settings. A member of the famous German NDR Big Band and is working extensively throughout Europe. Having graced the boards at Progress in 2015 with Andy Sheppard in a memorable gig, we have used his image on one of our very own pop up banners!
---