Tubby Hayes: A Man in A Hurry | Live tribute concert and film |

Buy tickets
Fri 11 May | University of Reading, London Road Campus  | 7:30pm | £10 plus maximum 5% booking fee.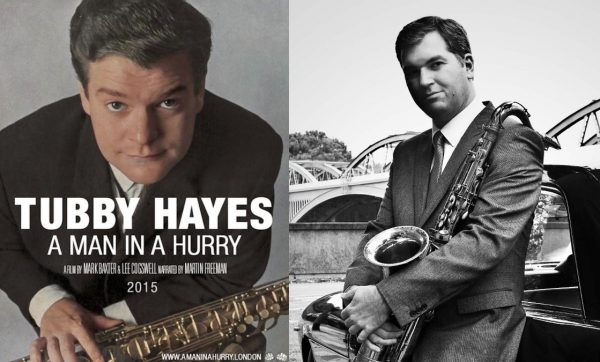 Tubby Hayes, British multi-instrumental virtuoso, arguably the legendary figure of post-war British jazz, died tragically in 1973, after an action-packed career that saw him rise from local wunderkind to international jazz star. Fortunately, he left a rich legacy of recordings, compositions and arrangements which continue to inspire younger generations of UK jazzmen including Simon Spillett, leader of tonight's featured quartet (pictured on the right above).
To celebrate Tubby's music, multi-award-winning tenor saxophonist Simon Spillett (author of the widely acclaimed biography of Hayes, The Long Shadow Of The Little Giant, Equinox Publishing, 2015), has assembled a unique all-star band of British jazz heavyweights to commemorate Hayes's music: John Horler piano, Alec Dankworth bass and Spike Wells drums, two of whom, Horler and Wells, knew and worked with Hayes.
Amongst the music they will feature in the first half of the evening will be compositions and arrangements from albums such as The Jazz Couriers In Concert, Tubbs in New York and Mexican Green, together with standards and ballads associated with Tubby.
The tribute to Tubby Hayes will continue after an interval through the medium of film. Film producer Mark Baxter will introduce Tubby Hayes – A Man In A Hurry, edited and directed by Lee Cogswell and narrated by actor and Hayes fan Martin Freeman. This acclaimed documentary charts the life and times of Tubby Hayes through exclusive interviews with people who knew Tubby, worked with him, musicians influenced by him, people from the music industry and fans. It will be followed by a Q & A session led by Mark.
Venue
University of Reading Block 22, London Road Campus RG1 5AQ. Map
Car parking is available in Acacia Road, off Redlands Road.
There is wheelchair access.
Pedestrian access is via the entrance in London Road. This is an approximately fifteen minute walk from Reading Station. Alternatively, buses 20, 20a, 21 stop in Kendrick Road.
The Dairy, just inside the Acacia Road Campus entrance, will be open prior to the event and during the interval with a full menu and an excellent range of liquid refreshments.

---