Jazz at Progress | Henry Lowther's Still Waters |

Buy tickets
Fri 12 Apr | Progress Theatre, Reading | 7:30pm | £17.00 (£15.00 concessions) plus maximum 5% booking fee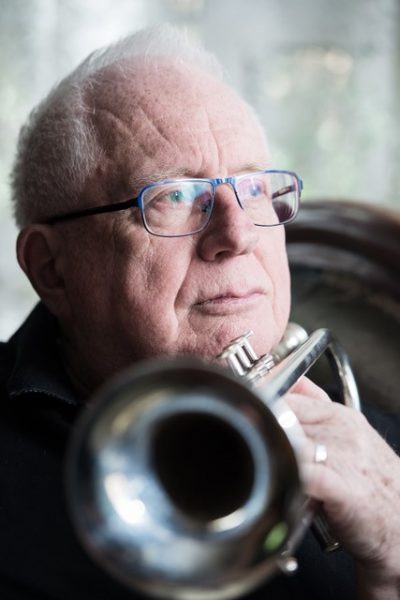 Henry Lowther trumpet & flugelhorn, Pete Hurt tenor saxophone, Barry Green piano, Dave Green bass, Paul Clarvis drums
Still Waters was born out of a long association and friendship going back over forty years between two of Britain's most accomplished, respected and much-loved musicians; Henry Lowther and Dave Green. They both felt that the time had arrived to play music of their own choice within a group of some of the finest jazz musicians working in Britain today. As a result, Still Waters is one of the most creative bands around.
Although a classic quintet of two front-line instruments and rhythm, Still Waters play music of radical and original invention, ranging from gently melodic and quietly pastoral pieces that reflect the band's name, to dynamic free improvisation.
'I am immensely proud of the band,' writes Henry Lowther. 'It's not just a collection of musicians, but a BAND. In other words, the sum of the whole is greater than the sum of its parts. The level of creativity, adventure and interplay on gigs never ceases to astonish me; no two gigs are ever the same and this is truer of Still Waters than any band I've ever played with.
'Dave Green is without doubt the foundation of Still Waters. He has a way of finding the right thing to do at exactly the right time, Whatever else goes on around him he always keeps it right there, allowing everybody maximum freedom.
'Paul Clarvis is the most idiosyncratic and creative drummer in British jazz, who, together with Barry Green's ability to move from straight playing to free improvisation, makes the rhythm section an absolute joy. I love its ability to go anywhere it chooses to go.
'My partner on the front-line, Pete Hurt, is not only a wonderful and inventive saxophone player, but also an all-round accomplished master musician and one of Britain's very greatest composers of music for big band.'
The Guardian awarded Henry Lowther's Still Waters 4 out of 5 stars in its review of Can't Believe, Won't Believe (Village Life 171013VL) on its release  in May of this year:
'If I wanted to convert a reluctant listener to modern jazz, I'd happily present them with this … you can just relax to the unfolding melodies and catch the subtle interplay of harmonies and rhythm. The surface may be calm, but there's a wealth of animation beneath. The more you listen, the more you find.'
---